People who damage large areas of grassland now face up to five years' imprisonment, according to a new judicial interpretation that aims to prevent conflicts arising from illegal mining and construction.
The Supreme People's Court said judges are also advised to levy heavy fines to those who illegally occupy or convert the use of pastureland covering an area larger than 1.33 hectares, or more than double the size of a soccer field.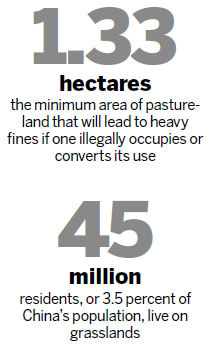 The threshold will be halved for re-offenders, according to the judicial interpretation, released on Thursday.
Yu Housen, a spokesman for the supreme court, said grasslands account for more than 41 percent of China's territory and have tremendous ecological significance.
At least 45 million people, around 3.5 percent of China's population, live on grasslands, mostly in the Xinjiang Uygur, Inner Mongolia and Tibet autonomous regions.
Yu said the environment of grassland areas has been degraded every year, and the land has been used for cultivation, mining, road building and urban construction.
"Some of these projects permanently damage the environment, while the damage from others can only be undone at a high cost," he said.
Inner Mongolia, one of China's major pastureland areas, has seen 947 cases of grasslands being illegally used for crop cultivation, while mineral reserves have also prompted illegal occupation and economic exploitation, he said.
The judicial interpretation is expected to help ease concerns over environmental costs by curbing the illegal conversion of land use.
Ma Youxiang, director of a grassland supervision and management center under the Ministry of Agriculture, said the current punishment - a fine of up to 50,000 yuan ($8,000) - is not enough to deter crimes compared with the huge profits to be made from mining.
Areas that have seen most damage to grasslands include Inner Mongolia and Xinjiang, as well as Heilongjiang and Jilin provinces.
Inner Mongolia, which is famous for its iron ore and rare earth reserves, replaced neighboring Shanxi province as China's top coal producer in 2010. Its booming mining industry has led to concerns about high environmental costs and conflicts between mining companies and local residents.
Last year, two truck drivers, both affiliated with mining companies, were sentenced to death in Inner Mongolia after killing residents in disputes over mining pollution, Xinhua News Agency reported.
In one of the cases, Sun Shuning was convicted of murdering Yan Wenlong, who lived near a coal mine operated by Peaceful Mining Co. The report said residents had often complained about the mine and clashed with the company's employees.
Chen Jiqun, who runs a nonprofit website for pasture protection, said he hopes the judicial interpretation can be well enforced to protect threatened pasturelands.
He added that the judicial interpretation can only deal with part of the issues concerning grassland protection, and called for a revision of the country's Grassland Law, which was last amended a decade ago.
zhaoyinan@chinadaily.com.cn