As Hu Xiongbing talks about his job, Heizi, his large German shepherd, watches him intently, as if the dog understands every word.
Theirs is an unbreakable bond that has existed for more than eight years, ever since the Guangdong Provincial Frontier Defense Corps of the Chinese People's Armed Police Force brought the duo together.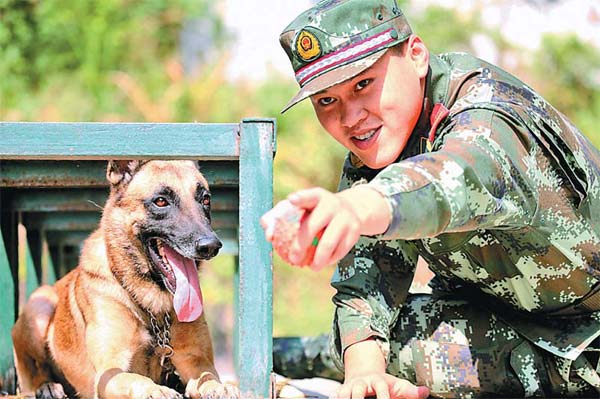 Hu Xiongbing and his new dog, Taizi, train at the police dog base of the seventh detachment of Guangdong Provincial Frontier Defense Corps of the Chinese People's Armed Police Force in Shenzhen on Nov 6. [Photo/China Daily] 
"I still remember the first time I saw him, when he was 8 months old," Hu said. "He was so fierce and kept trying to bite me.
"In the corps, you don't get to choose your dog, it is chosen for you, so I had no other choice. Eventually, after giving him lots of treats, his attitude improved and finally he accepted me."
That was in 2002. Today, Heizi is a highly trained police sniffer dog and has been part of many missions.
In 2010, he was part of patrols for the Asian Games in the provincial capital of Guangzhou, covering public places such as stadiums and transport hubs. He found five bullets hidden in the trunk of a car when Hu and his colleagues searched a hotel.
"When he finds something, he will not bark. He will simply stop, lie down and look me in the eyes," his handler said.
Hu, 27, is the most senior trainer with the corps' seventh detachment, which is based close to Meilin Reservoir in Shenzhen.
He joined the armed police in 2001, leaving his hometown in Meizhou, also in Guangdong province. He grew up playing with large dogs in his neighborhood.
"My family was still not satisfied with my job choice, though," he said. "They are afraid I'll be injured because the police dogs are so fierce. But I love it."
Police dogs are divided into three groups ― those that search for explosives, drugs and suspects.
A trainer will decide a dog's specialty according its character and performance in training, Hu said.
"Heizi is quiet and concentrated, so I trained him to search for explosives. Some dogs that are more active and excitable are more suitable to hunt suspects," he said.
Training includes submission orders ― "sit" and "lie down" ― as well as strength and searching techniques. Heizi was trained by making him familiar with the smell of explosives and by hiding his favorite red ball, which he has to look for.
"A qualified explosives police dog should be able to search a 10-square-meter room in three minutes," Hu said, adding that standards are high, with two dogs in 10 likely to fail the annual certification exam.
Heizi's least favorite exercise is jumping through the hoops of fire.
"It aims to help the dog overcome their psychological barrier and be more brave. Many dogs are afraid," the handler said. "At the beginning, every time he ran near a hoop he would back off, or stop and lie down.
Later, I show him the red ball on the other side of the hoop and he jumps."
Over eight years of working together, the duo have built a profound friendship. Hu recalls a day he was sick and unable to visit the dog in the pen.
"At about 9 pm, he turned up at my dorm," he said. "He'd opened the door of his pen on his own. I was so moved."
Heizi retired from service last year, and Hu is now training a Belgian Malinois called Taizi.
Next year, Hu's enlistment in the corps will expire, and he will have to decide whether to leave his platoon in Shenzhen, or to stay.
He hopes if he leaves, he can still work as a police dog handler.
"I know the public security bureau in each city has a dog base, so I hope I can work at a place like that. I just love dogs," he said.