Rather than head to a Fortune 500 firm after graduating from a top university, Shi Lei has staked his fate with poor farmers in a village. Cang Wei and Song Wenwei meet him in Nanjing.
While most graduates of the prestigious Tsinghua University go to work for big companies, Shi Lei has instead chosen to live with poor farmers in the countryside.
The then-20-year-old instrumentation major defied his parents and became a village official in Qixia district of Jiangsu's provincial capital Nanjing in 2008.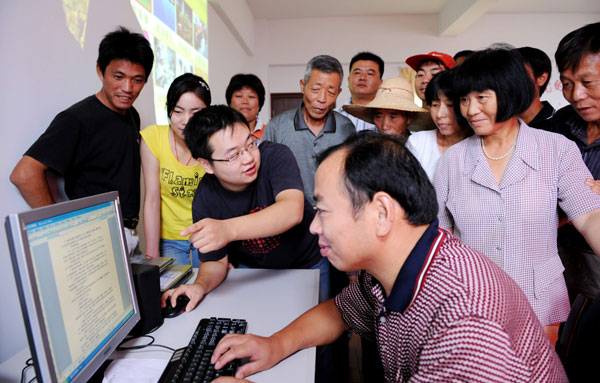 Shi Lei (wearing glasses) tells villagers how to use the computer to study agricultural technology. Photos Provided to China Daily
"I didn't think too much about salary or working conditions before I applied," says Shi.
"I just wanted to do something meaningful."
But he found it to be more challenging than he'd imagined, especially at first.
He didn't know how to communicate with the villagers, who hadn't received higher education. And he was clueless as to how he could change the habits of the young men, who loafed about the village all day.
However, the greatest difficulty was gaining villagers' trust.
Shi says he faced suspicion, and often felt upset and frustrated.
He encountered skepticism and even contempt when he was elected the Party chief of Xihua village in June 2010.
"There was no reason for the villagers to trust a stranger, especially a young man who'd just graduated from university," he says.
"I understood I had to earn their trust. It's like the Chinese saying: 'The village is the university of the social'. I needed to work to graduate from this university."
Shi took great care in his service. He digitalized one village's economic, historical and cultural documents.
Then, he printed his first batch of business cards and distributed them, telling the farmers to feel free to call him.
The first friend Shi made was Wu Xueyin, an elderly paralyzed man. Shi promised Wu he'd visit whenever he could.
"My family has more than one patient," Wu says.
"Shi helped us apply for medical insurance and subsistence allowances. That's really helpful."
Shi also created online classes to educate local residents about the outside world.
He says he followed discipline and kept every promise to the villagers.
Shi transformed from a "pale, useless scholar" into a true leader in local people's eyes after he went ahead with the demolition of an illegal building without paying compensation in 2011.
A powerful man had erected the 60-square-meter structure to cash in on compensation when it was destroyed, Shi says.
The man, who has a close relationship with authorities, threatened revenge.
"I hesitated," Shi recalls.
"Many acquaintances told me to let it go. But I did it anyway because illegal behavior can't be tolerated."
Shi says he felt warm and grateful when the villagers came to accept him and began to carefully listen to his words.
"We believe whatever he says," 45-year-old Xihua villager Tan Xiaoping says.
"We can tell who really wants to help us."
Xihua has transformed under the young Party chief.
Shi expanded the local real-estate management company from 26 to 150 employees, most of whom are farmers older than 50. He helped the company find new clients and employ more scientific management.
Consequently, the enterprise's revenues have increased from 820,000 yuan ($130,000) to 4 million yuan.
The growth in local incomes has enabled seniors to double their pensions to 100 yuan a month.
Shi also put in 80 streetlamps. There weren't any before, so the village was pitch black at night.
"It's a great feeling to know my work can improve the living standard of 1,200 villagers," Shi says.
"It's what I consider a meaningful life."
Because of his efforts, the 24-year-old has been selected as the youngest delegate to the 18th National Congress of the Communist Party of China.
On the wall of his 10-square-meter office hangs a plaque that reads, "Self-discipline and social commitment" - Tsinghua University's motto.
His office is in a bungalow between two hills. There are no modern office supplies, but Shi points out that it offers fresh air and beautiful views.
"We need people to work with the grassroots - to speak for them and take responsibility for their welfare," Shi says.
"I want to do what I can to make their lives better. Compared with urbanites, people in the countryside still face many hardships, such as low pensions and less-developed healthcare systems.
"There's a lot of work for me to do in the future."
Contact the writers through cangwei@chinadaily.com.cn.