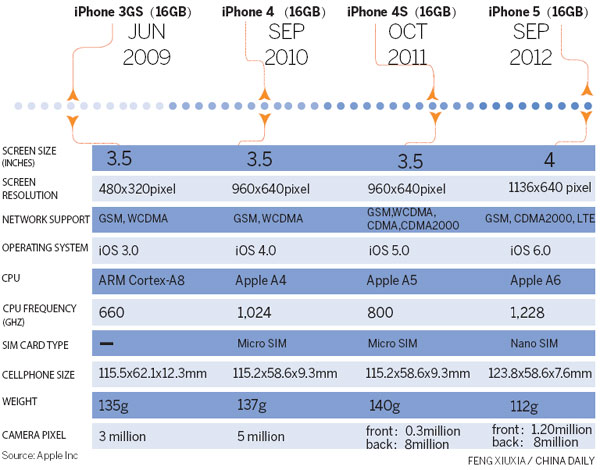 After Apple Inc unveiled its latest smartphone - the iPhone 5 - in the United States on Wednesday, Chinese gray-market dealers didn't waste any time preparing to get their hands on the already popular handset.
Because the company, once again, didn't put the Chinese mainland into its first group of countries and regions to sell its new product, dealers in the Chinese market are looking at other ways to get their customers the new phone.
According to Apple, the iPhone 5 will be available in the United States, Australia, Canada, France, Germany, Hong Kong, Japan, Singapore and the UK on Sept 21, and 22 more countries - but not the mainland - on Sept 28.
However, dealers at Beijing's biggest electronic market, Zhongguancun, promised their customers that they can fill their stores with iPhone 5s as soon as the product debuts.
"Zhongguancun will have many iPhone 5s on Sept 22, even though the price in the first two days will be extremely high," said Sun Xing, a 30-year-old shop owner in the area.
Sun's small shop is in the basement of one of Zhongguancun's electronic shopping malls - a small business where it's hard to believe that a dirty, tiny store can sell more than 30,000 yuan worth of Apple products every day.
According to shop owners in Zhongguancun, the price of an iPhone 5 on the first day it's available will be as high as 10,000 yuan ($1,580).
In the second quarter of this year, 86 million phones were sold in China, and 51 percent were smartphones, according to the US-based research company IDC.
"This year China's smartphone shipment will reach 185 million units with more than 300 million users," said Kitty Fok, vice-president of IDC Asia-Pacific.
Tempted by such a large market, even overseas Chinese people are trying to get a piece of the action. A seller in China's e-commerce website Taobao.com named "Ming Ming", who emigrated to Canada a few years ago with her family, started to offer pre-ordered iPhone 5 online.
After hearing of the market demand in China for iPhone 5s, she posted 6,599 yuan iPhone 5s for sale online in one day.
Big e-commerce websites have also announced they will cut iPhone 4 and iPhone 4S prices for introduction of iPhone 5.
Dangdang.com, a domestic online shopping portal, announced it will slash the price of the iPhone 4S by 500 yuan. China Unicom (Hong Kong) Ltd, the nation's second-largest telecom operator by subscriber number, said there is no official announcement on the launch date for the iPhone 5 in China.
However, Apple's official partner in China was reported as saying by China's Web news portal Sohu.com that the new device will be on the market within three months and is now only waiting for network access certification from China's industry regulator.
Though Chinese media quoted Li Gang, deputy general manger of China Unicom, as saying that China Unicom was likely to introduce the iPhone 5 within the next three months, Wen Baoqiu, spokesman for China Unicom, told China Daily on Thursday that "the company did not confirm the news".
China Telecom, the smallest mobile operator in China, also refused to reveal the exact date of the iPhone 5's launch. China Telecom is the second domestic telecom carrier that introduced Apple's iPhone series on contract in the country. It released the CDMA version of the iPhone 4S in March, almost 28 months later than China Unicom, as the latter launched the iPhone 3GS in October 2009.
The exposure of the iPhone 5 has shattered China Mobile Ltd's dream of having one Apple device supporting its homegrown network. China Mobile, the world's biggest telecom operator by subscriber number, had hoped Apple would incorporate at least the TD-LTE 4G technology, as its TD-SCDMA 3G technology were very likely to be ignored.
Though supporting FDD LTE networks on certain networks, the iPhone 5 will not embrace TD LTE technology.
"China Mobile may have to wait for the next generation iPhone product to run on its networks, and that is not a short period," said Sun Kai, analyst at GfK Retail and Technology China Co Ltd, a Germany-based research company.
Contact the writers at tuoyannan@chinadaily.com.cn and shenjingting@chinadaily.com.cn
(China Daily 09/14/2012 page13)