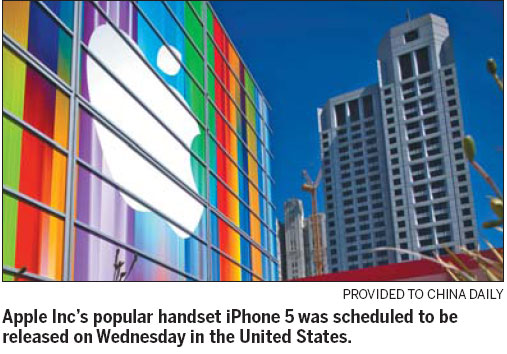 It's that time again - another new Apple Inc product launch, when buyers all over China face the challenge of working out the best way to get their hands on one, in the cheapest and quickest way possible.
When the iPhone 4 was launched, it arrived in Beijing three months late; the new iPad was 120 days late.
But even before the latest iPhone 5 was due to debut in selected stores around the world on Wednesday, customers in China have already been able to book them over the Internet.
As soon as the US-based electronic giant announced it will release its handset iPhone 5 on Wednesday in the United States, Chinese vendors started to dump old versions of the iPhones, in preparation for sales of the new one.
The price of an iPhone 4S in this classic gray market - where sales of old versions of a product can also often provide a good indication of demand for a new product - has dropped about 1,000 yuan ($158.50) in the last few weeks in Beijing's Zhongguancun electronics market, said one vendor, Li Lianhai.
In his tiny 14-square-meter store, iPhones and iPads are piled up to the ceiling.
"The price of the 32-gigabyte iPhone 4S has dropped from 5,200 yuan three weeks ago to 4,500 yuan, because vendors are afraid they'll have trouble unloading their stocks of them following the release of the iPhone 5," Li said.
Online, China's biggest e-commerce website Taobao.com already has sellers posting adverts for iPhone 5s for customers to pre-order.
A 16 GB iPhone 5 costs more than 6,000 yuan online, about 1,000 yuan higher than Apple's official price; but in one online store, more than 50 customers have already booked one.
"You don't need to queue all night, and worry about someone taking your spot when you go to the restroom - we'll send your iPhone 5 straight to you once it comes to the market," said an advertisement on Taobao.
When the US company released its iPhone 4, hundreds of Chinese spent the whole night waiting in front of the Apple stores to buy one of the popular handsets.
In July, Apple announced it sold 26 million iPhones in the quarter ended June 30.
Its release of the iPhone 5 on Wednesday could materially affect US gross domestic product in the fourth quarter of the year, according to JPMorgan Chase analyst Michael Feroli who estimates the new version will add 0.25 to 0.5 percent the country's year-on-year growth rate.
The Chinese mainland has always been the last region to have Apple's products.
"I booked an iPhone 5 online because I don't think Apple will release it in the Chinese mainland at the same time as the US and Hong Kong," said one Taobao customer who just pre-ordered one online under the Taobao ID "Bao Dudu".
"Gray market dealers are always faster than official stores."
tuoyannan@chinadaily.com.cn
(China Daily 09/13/2012 page13)