SEOUL - Eighteen Chinese fishermen have been rescued, six are confirmed dead and nine are still unaccounted for after a powerful typhoon sank their fishing boats in South Korean waters early Tuesday morning, Chinese consulate officials in Jeju said Wednesday.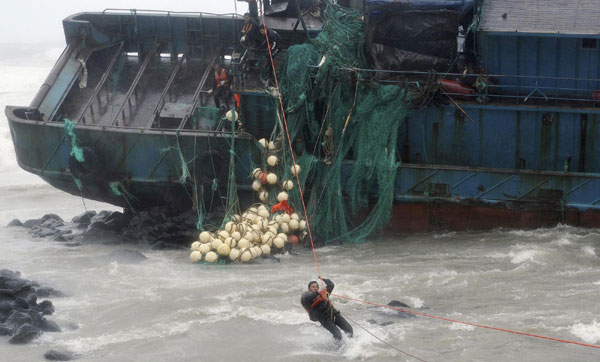 A Chinese fisherman gets out of a stranded Chinese fishing boat by using a rope while South Korean policemen rescue him and other fishermen in Seogwipo on Jeju Island, south of Seoul August 28, 2012. [Photo/Agencies]
Two fishing boats capsized around 2:40 am local time in waters about 1.8 kilometers from the Hwasun port in Jeju's Seoguipo city due to heavy winds and high waves unleashed by Typhoon Boleven.
The vessels, "Yuejiangchengyu" No 91104 and No 91105, are both from Weihai city of East China's Shandong province.
The Jeju-based Chinese Consulate is maintaining close contact with local police in search and rescue efforts.
According to Chinese consulate officials, the tropical storm now is over and the weather is getting better in that area. The South Korean rescuers are still searching for the nine missing from the Chinese ships that hit rocks off South Korea's southern Jeju island.
The powerful typhoon pounded South Korea with strong wind and heavy rain Tuesday as it churned up rough seas that smashed two fishing ships into rocks.