Beggars would not be allowed to loiter in public places in Foshan, in South China, according to a new rule aimed at improving the look of the city, Yangtze Evening News reported Tuesday.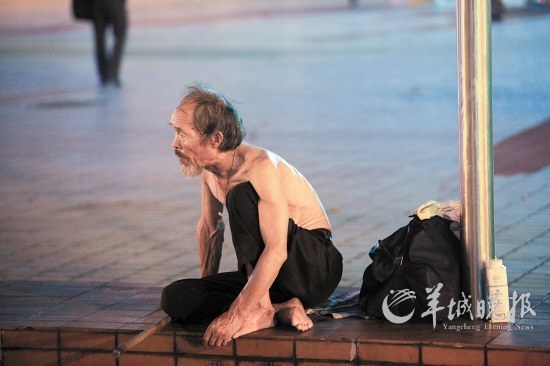 A beggar sits by the roadside in Foshan, South China's Guangdong province. [Photo/Yangtze Evening News]
Public squares, bus stations, ports, footbridges, parks and tourist attractions would be off limits to homeless people begging or just hanging out, according to the Foshan City Appearance Standard issued on Aug 10, which was drafted by the city's Bureau of Housing and Urban-Rural Development.
Begging has been an ongoing problem in the city, according to an official at the bureau. "The phenomenon is uncivil and would harm the image of the city, and that's why we made the regulation," said the official.
Some experts say that begging on the streets should not be totally restricted. "Forbidding beggars in public would deprive them of their means of livelihood. The government could set up a 'No begging zone' instead of limiting their activity scope," said an associated professor at the Foshan Municipal Party Committee Party School.
In early July, pyramid-shaped cement cones embedded on the ground under some overpasses in Guangzhou, a neighboring city of Foshan, were exposed online as a measure to prevent the homeless from sleeping there. It triggered a debate on authorities' treatment of panhandlers.