Shaoshan village is still intensely proud of its most famous son, the former leader of China Mao Zedong, Liu Xiangrui reports, in Xiangtan, Hunan province.
Shaoshan residents often arrive early in Mao Zedong Square to stand and bow three times before respectfully circling the bronze statue of the former Chinese leader. In Shaoshan village, where Mao was born and raised, he is still a hero and a big part of locals' lives.
"The older villagers still have a deep affection for Chairman Mao," explains Zhou Shengen, 40, who works as a security guard in the square.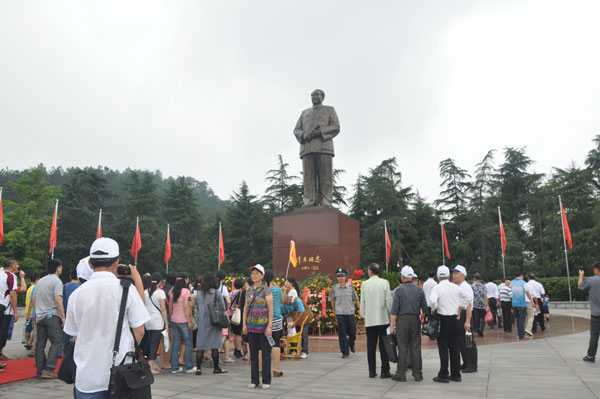 Visitors flood into Mao Zedong Square, in Shaoshan, Hunan province. Photos by Liu Xiangrui / China Daily
For instance, Mao Youlian, 88, is retired but still wakes up at 5:40 am. After washing his face and hands he dresses in formal clothes, with long sleeves - even in summer - and joins others in their tributes to Mao, in the square.
"Many of my neighbors do the same," explains Mao Youlian, who often drops by the former residence of the former leader, which is not far away.
"It's an enjoyable walk for old people like me. We have clean air, a nice environment, and resting places along the way. And more importantly, we can pay our respects to Chairman Mao."
In Shaoshan, nearly every family has Mao's picture or a statue of him in their living room. The streetlights are shaped like shining stars, a common icon in Mao's era.
It has been a unique tradition in Shaoshan for young couples to hold weddings and take their oaths before Mao's bronze statue in the square. Families celebrating the Lunar New Year wish for good fortune before the statue, too.
Villagers have many special ways to remember the late leader, a fellow villager who makes them all proud.
For Zhou, the most exciting event is the annual celebration of Mao's birthday in the square.
On this day, all the villagers will treat themselves and thousands of tourists to a free meal of noodles. Noodles are a traditional food to celebrate birthdays, as people believe long noodles stand for longevity.
The crowds pay tribute to the "Great Helmsman" by leaving behind bouquets at the bronze statue and singing The East is Red.
Some villagers will take along a bowl of pork braised with brown sauce, a favorite dish of Mao.
For Zhou, the work of guarding Mao's bronze statue suits him well. He even gave up a job with a higher salary in 2011.
"But I wish I was born a few decades earlier, so that I would be able to guard the real Chairman Mao when he returned to Shaoshan," Zhou says.
Stories about the former leader were learned at school and from his father, who used to be a soldier. In addition, Zhou loves reading books about Mao during his free time.
"I'm so grateful that Chairman Mao and other revolutionary forerunners made great sacrifices for our nation and gave us our happy lives today," he says.
In his opinion, the offerings and bows of visitors before the statue have nothing to do with superstition but are a traditional way of remembering Mao's merits and achievements.
"He will be an example not only for me, but all future generations in my family," says Mao Anping, who is a nephew of the late chairman and lives in an old house in the village after retiring from the tourist administration bureau several years ago.
Mao Anping says the late chairman never pursued selfish interest for his family or his home village during his lifetime. Thus he has upheld the chairman's principles of unselfishness himself.
"People will not respect you simply because you are a relative of Chairman Mao, they only respect you for what you have done," he says, adding that he won't allow organizations to use Mao's fame to their advantage.
While local residents firmly uphold a culture of praise for the former leader, they have had to keep up with the times.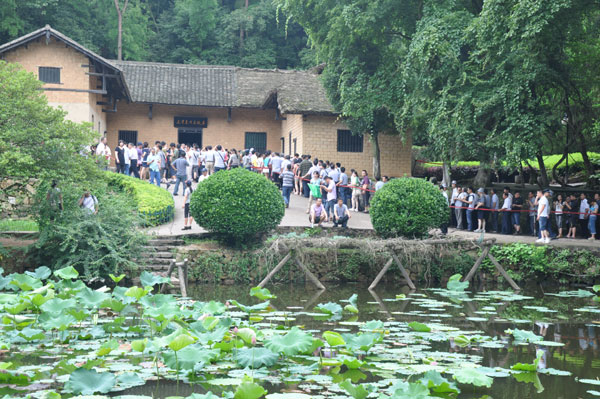 Tourists line up outside Mao's former residence. Photos by Liu Xiangrui / China Daily
Village leader Mao Yushi still remembers how difficult it was to change villagers' minds in the 1980s when local authorities decided to boost tourism.
He remembers an elderly villager felt so frustrated at stopping people from running businesses that he cried bitterly in front of a portrait of Mao Zedong.
"They argued that opening private businesses was against socialism and would bring shame to Chairman Mao," the village head explains.
He later went to villagers' houses to talk them into emancipating themselves from old shackles and embrace non-public sectors of the economy.
The situation changed gradually. Now almost all of the 450 households earn a decent income running restaurants or inns, or vending souvenirs like Mao badges or statues. Many locals have linked the name of their businesses with the late chairman.
"No matter how rich the villagers get, Chairman Mao's spirit will always be our biggest source of wealth. We won't stop passing down his stories and spirit to future generations in Shaoshan," says Mao Yushi, the village head.
Feng Zhiwei contributed to the story.