Authorities in Harbin, Heilongjiang province, have denied construction officials' claims that it is not possible to find contractors who might bear responsibility for Friday's bridge collapse that killed three and injured five.
The ramp of the $300 million Yangmingtan Bridge, in use for less than a year, tilted to one side and crashed onto the pavement 30 meters below early on Friday, taking four trucks with it.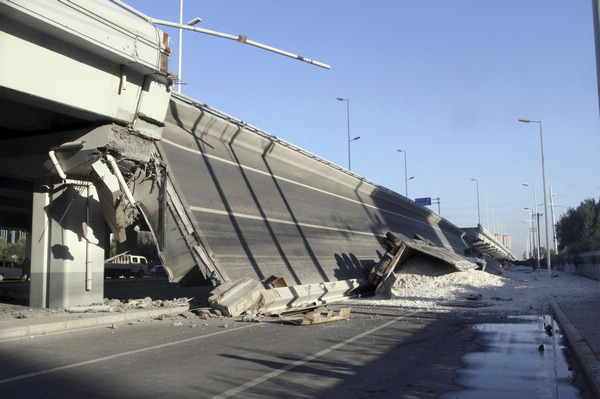 A bridge collapses in Harbin, capital of Heilongjiang province, Aug 24, 2012. [Photo/Xinhua]
Feng Licheng, 41, one of the people injured, is still in critical condition, said Jiang, a publicity officer who did not give her full name, at Harbin No 1 Hospital in the Heilongjiang provincial capital.
Following the collapse, claims were made on the Internet that officials at Harbin's housing and urban-rural development commission said the bridge construction headquarters had dissolved and the contractors could not be found.
On Saturday, Huang Yusheng, secretary-general of the city government, said the claims were groundless and there had never been such an official remark.
He said the government had provided material from the bridge's designer, contractor and supervisor to the investigation team. After the investigation ends, the names of the designer, contractor and supervisor will be made public, he told a news conference on Saturday.
"Also, the collapsed 121 meter long ramp, 3.5 km from the main span of the Yangmingtan Bridge, was under a separate viaduct construction project. It was not under the same contract as the Yangmingtan Bridge," he said.
However, Qianjiang Evening News quoted an anonymous source close to the issue as saying that the construction of the collapsed ramp was contracted to a small Harbin company.
The ramp was part of the Qunli viaduct project and it opened to traffic in November 2011.
City authorities said last year that the construction of the bridge took 18 months, only about half of the planned three years.
Friday's accident caused public outrage over the safety of public facilities and inadequate management and supervision by government agencies.
Huang said on Saturday that the weight of the four trucks and the loads surpassed 422 metric tons and three of them had their compartment volume changed. He suggested that the overloading of some vehicles could be a cause of the accident.
On Saturday, Harbin authorities began an overhaul of bridge safety and conducted more screening for overloaded vehicles on the road.
Huang said seven leading bridge design specialists recommended by the Ministry of Housing and Urban-Rural Development were in Harbin to help determine the cause of the accident.
Xinhua contributed to this story.
Contact the writers at chenxin1@chinadaily.com.cn and zhaoyunpeng@chinadaily.com.cn
Related Readings:
3 killed, 5 injured after bridge collapses in NE China

Collapse of bridge raises question over construction quality