Japanese politicians and prominent academics from China and Japan urged Tokyo on Tuesday to abandon its outdated foreign policy of leaning on the West and accept China as a key partner as important as the United States.
The Tokyo Consensus, a joint statement issued at the end of the Beijing-Tokyo Forum, also called on both countries to expand trade and promote a free-trade agreement for China, Japan and South Korea.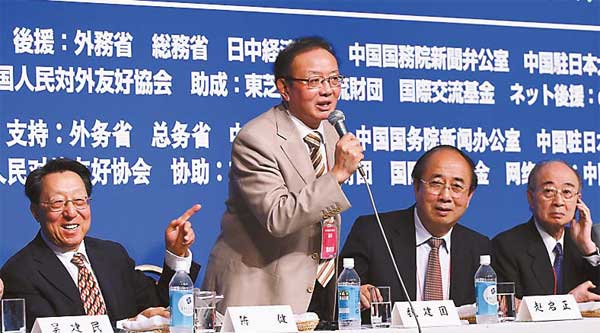 Invited speakers enjoy a light moment during a news conference at the Beijing-Tokyo Forum on Tuesday. In attendance are, from left, Chen Jian, former Chinese ambassador to Japan, Wei Jianguo, former vice-minister of commerce, Zhao Qizheng, head of the foreign aff airs committee of the National Committee of the Chinese People's Political Consultative Conference and Yasushi Akashi, former United Nations under-secretary-general. ZOU HONG / CHINA DAILY
The consensus, the first document to suggest solutions to problems agreed by non-governmental elites from both countries since the forum started in 2005, called on Beijing and Tokyo to join hands to help ease the European debt crisis.
Koichi Kato, a member of the Japanese House of Representatives, told the forum in Tokyo that it is time for Japan to distance itself from the theory of being separate from Asia.
The theory, first enunciated by Japanese author Yukichi Fukuzawa, an influential figure during the Meiji Era (1868-1912), has guided Japan's foreign policy.
Fukuzawa wrote that Japan should not wait for its neighbors, including China and Korea, to start their modernization but ought to "leave Asia" and follow Western countries.
It also suggested that the government should not treat China and Korea — which he called "bad friends in Asia" — with "special sympathy", but to treat them as the West did.
"We used to follow the path of breaking away from Asia and joining Europe," Kato said.
"But look at Japan's foreign trade now, its trade volume with the US has fallen behind the one with China. The current situation has changed too much from the old one, which originated from the old theory. We should propose a completely different one," he said.
He supports the idea of "returning to Asia and keeping close to the US".
Ye Xiaowen, Party secretary of China's Central Institute of Socialism, said that the theory was proposed during the Qing Dynasty (1644-1911) and "nourished imperialism in Japan".
Ye noted mainstream Chinese economists generally believe that the economy can continue growing above 7 percent for two decades.
"Japan will be underestimating China if it sticks to its old foreign policy," Ye said.
Chen Haosu, president of the Chinese People's Association for Friendship with Foreign Countries, suggested that the Japanese government should treat all countries as potential friends.
The benefits of the proposed free-trade area involving China, Japan and South Korea were also highlighted at the forum.
The three nations have agreed to start negotiations on the trade pact by the end of the year.
Wei Jianguo, former vice-minister of commerce, said China and Japan should wrap up negotiations on the FTA for commodities, investment and services in the next three to five years.
As the top two Asian nations, China and Japan should be committed to enhancing regional cooperation and invigorating the Asian economy, the consensus said.
At the opening ceremony of the forum on Monday, former vice-premier Zeng Peiyan called on China and Japan to maintain stable growth and to contribute further to the global economy.
Kojima Akira, a member of the Board of Trustees of the National Graduate Institute for Policy Studies, said on Tuesday that both countries should also cooperate to boost consumption in Asia, and to help Europe tackle its debt crisis.
The eurozone crisis has hit exports from China and Japan.
Chi Fulin, president of the China Institute for Reform and Development, said that despite the eurozone crisis, both countries should focus on promoting the free-trade area and boosting investment.
According to a white paper initiated by the China-Japan Chamber of Commerce, Japan's investment into China last year increased 50 percent from a year earlier.
Wei said that a new wave of investment by Japanese companies in China is expected soon.
The consensus also encouraged people from both countries to engage in candid discussions that can lead to better understanding. And it vowed to lead studies on key topics, including how to deal with territorial disputes.
An annual survey on China-Japan relations released in June, under the forum, revealed that negative feelings toward China among Japanese people hit a record high in the forum's eight-year history. About 84 percent of those interviewed said they had a negative impression of China.
Nonetheless, it found an overwhelming majority of people in both countries attached great importance to relations.
The forum, co-sponsored by China Daily and Japanese think tank Genron NPO, has been held alternately in Beijing and Tokyo since 2005.
The annual gathering is one of the most significant platforms for high-level non-governmental communication between the two countries. More than 100 politicians, scholars and former government officials and military officers attended the gathering this year.
Contact the writers at lixiaokun@chinadaily.com.cn and dingqingfen@chinadaily.com.cn