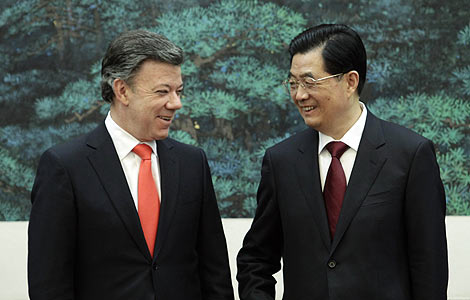 Chinese President Hu Jintao talks with visiting Colombia's President Juan Manuel Santos in the Great Hall of the People in Beijing, May 9, 2012. [Photo by Wu Zhiyi/Asianewsphoto] 
BEIJING - President Hu Jintao on Wednesday vowed to create a fresh start for China-Colombia relations during his meeting with Colombian President Juan Manuel Santos.
"Facts have proven that a cooperative China-Colombia relationship built on the basis of mutual respect, equality and mutual benefit has broad potential for growth," Hu said.
During the talks with Santos in the Great Hall of the People, Hu put forward a four-point proposal on deepening bilateral relations.
Firstly, Hu said the two countries should strengthen contacts and enhance mutual trust in the political area so as to secure long-term friendship. He said high-ranking officials, government departments, legislatures and political parties of the two countries should strengthen dialogues and exchanges in a bid to better understand and support each other on major issues of their own concern.
Secondly, Hu said the two countries should tap into the potential of mutually beneficial cooperation and jointly achieve common development in the economic area. The two sides should actively explore new ways of deepening economic cooperation, promote growth of trade and two-way investment and expand cooperation in the fields of infrastructure, energy, mining, water conservation, telecommunications and agriculture.
"The financial institutions of both countries should expand business links and provide financial services for bilateral trade, economic and technological cooperation," Hu said.
Thirdly, Hu said the two countries should enrich the content of people-to-people exchanges so as to deepen friendship. The two sides should adopt various ways to expand cooperation in cultural, educational, broadcasting, TV, film and disaster reduction areas. The two sides should step up friendly contact between young people, non-governmental sectors and local governments by staging a series of exchanging activities.
Fourthly, Hu said, the two countries should strengthen consultation and coordination on international affairs. The two sides should join hands to address global challenges and promote all-round development of bilateral relations.
Hu voiced appreciation for Colombia's adherence to the one-China policy, as well as its prioritization of Sino-Colombian ties.
"The Chinese side places great importance on China-Colombia relations," Hu said, adding that China always regards Colombia as a good friend and partner.
Santos said Colombia regards China as an important partner, expressing readiness to strengthen cooperation with China.
Santos said bilateral relations are facing rare opportunities for further growth. He said Colombia is ready to maintain high-level exchanges and contact in order to deepen mutual understanding.
Santos expressed a wish to step up bilateral cooperation in the areas of trade, investment and agriculture, saying Colombia will create favorable conditions for Chinese companies to invest in infrastructure, energy and resources.
"Colombia holds a positive attitude toward the discussion of a free trade agreement between the two countries," Santos said.
He said Colombia has encouraged people-to-people exchanges with China in order to deepen their relations.
In the face of a complex and changing international situation, Colombia is ready to strengthen cooperation with China on major regional and international issues, Santos said.
He said Colombia is ready to join hands with China to address the challenges of global economic governance, climate change and sustainable growth in order to realize common development.
Santos said Colombia is ready to play an active role in advancing the development of relations between Latin America and China.
After the talks, the two presidents witnessed the signing of several bilateral agreements concerning economics, culture, agriculture, mining, infrastructure and energy.
Santos is visiting China for the first time since being elected president in 2010.
During his stay in Beijing, Santos will meet with senior Chinese leaders Wu Bangguo, Wen Jiabao and Li Keqiang. He is also scheduled to visit Shanghai before returning home.