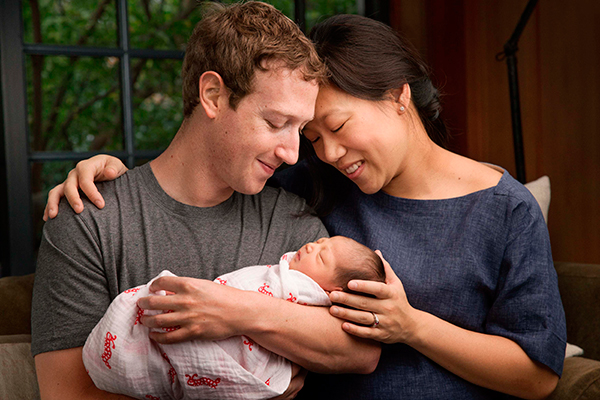 Mark Zuckerberg and his wife holding their newborn daughter. [Photo/ provided to China Daily]
In order to do it, you are willing to sell your house and give up everything else. If you have this determination, just do it.
Currently, I am still CEO, the chief education officer, of Alibaba. My job is to ensure that people joining my company do better than me and they become better than themselves.
Internet is a technology that can improve people's lives rather than just make money. This is my belief and mission. If you have a group of people who believe in the dream you guys have together, you will be more likely to succeed.
Congratulations on your new-born daughter, Mark. I've seen a picture of you holding her with a book. The title is "Quantum Physics for Babies." Is this the starting point for learning?
Zuckerberg: What I really hope her to have is just curiosity. She should go forward and try to learn different things. It is OK no matter what she wants to be, whether a teacher, or a doctor like her mother, or an engineer like me, or anything else. I hope she has curiosity, keeps asking why things are like they are, and how things can be better. That is curiosity.
Ma: The advice to our kids is to be happier, healthier and more optimistic. I don't care what my daughter does, as long as she is happier, healthier and more optimistic at solving any problems. As human beings, we have all kinds of disasters, but we believe we will solve these problem. If we can't, someone will. If somebody can't, we can. We've been working so hard. What we want to do is to make our children live in a world better than ours.
CV
Jack Ma
Age: 51
Education:
1988:Bachelor's degree in English from Hang zhou Teacher's Institute in Zhejiang province
Career:
2013 on wards: Executive chairman of Alibaba Group Holding Ltd
1999: CEO and executive chairman of Alibaba Group Holding Ltd
1995: Set up Chinese yellow pages online
Mark Zuckerberg
Age: 31
Education:
2002-04: Studied computer science and psychology at Harvard University
Career:
2004 onwards: CEO and founder of Facebook Inc
Family: Married with a daughter