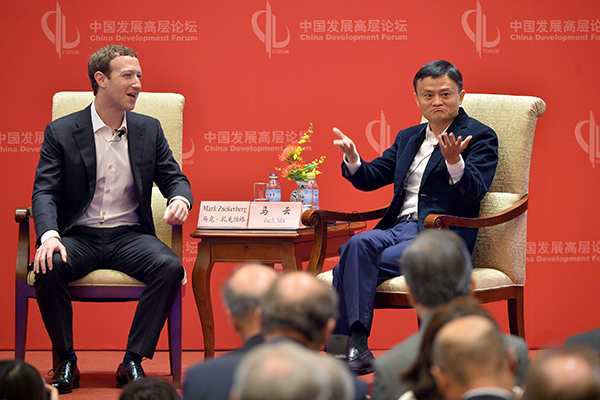 Mark Zuckerberg, CEO of Facebook Inc, talks with Jack Ma, chairman of Alibaba Group Holding Ltd at the China Development Forum in Beijing on Saturday. [Photo/Xinhua]
Certainly countries all over the world are trying to train engineers, but based on my experience, it is definitely one of the things that is more emphasized in China than in other places, and I think it is a real advantage.
Ma: I once had a discussion with one of my best American friends. He said: Jack, I worry about China, because in 20 years, China's GDP will be bigger than that of the United States. You will be more powerful than the US. You are going to control the world like the Americans do.
I said: Why do you think like that way? He said: Because we think like that way. Well, this is the cultural difference.
The religion of the Western world is very competitive. They need a competitor. Either you are on my side or you are on the other side. As a company, you need to have a competitor. Whatever you do, you need to figure out what your competitors are doing.
But in China we are different. The religions of China-Taoism, Buddhism and Confucianism-are all about being harmonious. How we can change ourselves to meet the outside world. Taoism is about how can I change myself to meet the environment and Confucianism is about how can I change myself to be harmonious with the society. Buddhism is about how can I change my behavior to meet my heart or coordinate with my heart. So in the oriental culture we are not that competitive. We always try to think about how we can change ourselves to meet the others.
Three hundred years ago, all human beings, both in the West and the East, relied on philosophy and religion. But in the past 200 years we only focus on knowledge. What I feel is that the West represents more on knowledge and the East focuses more on wisdom.
So who will win? I believe those people who can blend the two cultures will win.
This is why I show great respect and love to Western culture. I believe both cultures and religions are wonderful and we should respect each other. Don't always think about how to compete, but think about how we can work together.
Both of you are entrepreneurs. Any advice to those who want to become entrepreneurs like you?
Zuckerberg: I think you should focus on solving a problem rather than starting a company. In Silicon Valley it is really cool to have a company. A lot of people start a company before they know what problem they want to solve. That is crazy. From what I can tell, most of the companies that end up achieving big missions in the world or building great enterprises start with a mission, whether it is solving a country problem or serving some customers, or creating some product to change the world. When you find your mission and have someone actually like it and use it, you will find employees to push it further to the world.
Ma: My advice is that you have to believe in what you are doing. You have a mission, you want to solve a problem and you believe it. You do it not because the others are doing it. You do it not because this thing is going to make money.