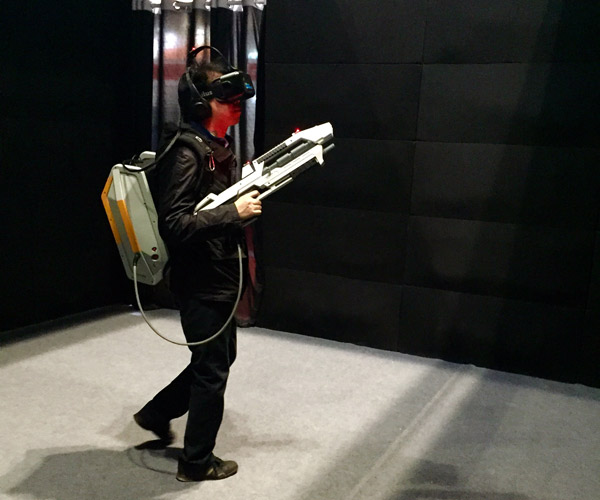 An early adopter takes hands-on with the shooting game named "VR Shoot" that powered by SweetTech's "room-scale tracking" solution at the China (Beijing) Attractions Expo 2016 held in Beijing, March 15, 2016. [Liu Zheng/chinadaily.com.cn]
Virtual reality (VR) will no longer be the preserve of science fiction or a small niche in China.
Since 2015, VR has spread its wings in a lot of areas, not only at the capital level, but also in the increasing number of commercial products launched in the market.
"The market feels like it did on the eve of the first iPhone when it was unveiled in 2007," said Yang Tao, general manager of Beijing-based VR startups SweetTech. The company is expected to open its first ever VR experience store in July in Beijing.
According to industry consultancy firm iResearch Consulting Group, this year, the Chinese VR market will exceed 5.6 billion yuan ($880 million) in revenue. That compares to a revenue of 1.5 billion yuan in 2015. It also estimates revenue is on track to break 55 billion yuan by 2020.
By introducing VR-enabled entertainment equipment into theme parks and establishing offline experience-centered brick-and-mortar stores on high street, more consumer education approaches and venues are expected to be seen this year in the sector.
"We are experimenting to create a new entertainment form, which is able to replace the traditional 4D cinema theater enabled by projection technology," said Yang. "But currently there are limited numbers of companies implementing the content distribution model on the market and the existing early adopters' feedback is not yet enough to fill the demand of VR companies."
He Wenyi, founder of lekevr, a VR content distribution solution provider, pointed out that the brick-and-mortar VR store is a synthesis of cinema, Karaoke bar and Internet café. "Currently, to popularize the VR experience, establishing offline physical stores is the best way to feed the potential market demand," said He.
Being a pioneer in the industry, the company has opened 1,000 experience stores in China and it just ended A-round financing with more than ten million yuan ($1,537,000).  
According to an industry research report unveiled for investors by China Galaxy Securities Research, normally an offline brick-and-mortar store requires a 30-square-meter room that costs 10,000 yuan in monthly rent. By taking off the employees' expenses that cost about 6,000 yuan monthly, if the daily visitor flow is able to reach 30 to 40 people and the service price is 30 yuan per head, the monthly net profit of one store will reach to more than 10,000 yuan.
Due to challenges in building and managing the experience stores, hardware manufacturers in the VR sector are more willing to partner with distribution platforms with existing sales venues, such as Internet cafés, to push consumer education of the technology.
Alvin Wang Graylin, who is in charge of HTC's VR business in China, recently spoke to media that the company is planning to open more than 100 VR experience stores this year. He also said the company is in discussion with partners like Internet cafés in many countries.
Meanwhile, by comparison with the "console game culture" based around the couches of western families' living rooms, Chinese VR enterprises are keen on promoting a local strategy to attract more customers to get a closer look at VR products.
Apart from brick-and-mortar experience stores, VR theme parks could also prove key for the market.
"As long as the intellectual properties presented in the content are familiar to consumers, VR theme parks will be an important platform for content distribution and a way to monetize the technology," said China Galaxy Securities Research.