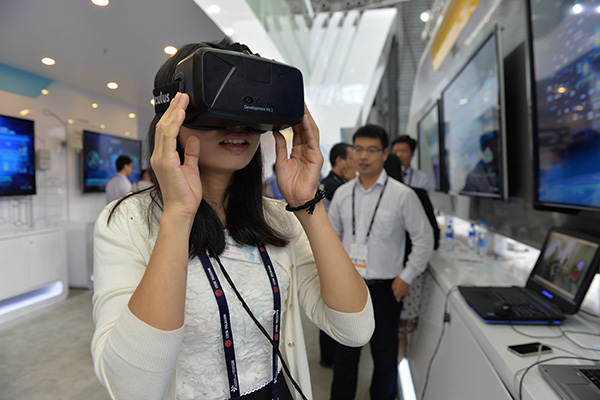 A visitor tries a VR device at a promotional event in Shanghai in July. [Photo/Xinhua]
China is becoming a battlefield for virtual reality companies competing to triumph in the world's top consumer electronics market.
HTC Corp introduced its VR goggles-HTC Vive-on March 10 in Shenzhen. The Taiwan-based smartphone maker is betting on the booming VR sector at a time when smartphone sales have slowed.
Cher Wang, co-founder and CEO of HTC, said the company will focus on developing virtual reality devices during the coming 10 years.
And a number of Chinese mainland Internet companies are also aiming at the VR sector. Beijing-based LeEco Holdings Co released its first VR device in late December. The Cool 1, a 149 yuan ($22) headset, requires a smartphone to be attached to the front to create a three-dimensional world through lenses in the goggles.
Ablikim Ablimit, strategic vice-president of LeEco, said the company is investing huge amounts in the VR project.
"We are aiming to build a platform for all companies involved in VR technology," Ablimit said. "We will focus on integrating every resource in the industry to help our partners be profitable."
Ablimit said LeEco wants to be able to bring VR movies, video games, educational material and sports broadcasting services to its users.
Tencent Holdings, a major Internet player based in Guangdong, also announced its VR project in late 2015. Tencent, which also distributes online video games, said it will help game developers make VR games.
Li Shuxin, chief technology designer with Tencent's VR team, said the company will mainly provide software support to developers.
"We will give out a free software development kit in March to let individual developers and video gaming startups build their own VR games," Li said.
"Tencent will also establish an online store and an advertising platform to help developers distribute their products."
VR technology renders two marginally different images before users' eyes. Using a motion detection sensor on the goggle, the user is able to look around in a panoramic digital environment.
It is anticipated that the Chinese VR market will exceed 5.6 billion yuan ($880 million) in revenue this year. That compares to revenue of 1.5 billion yuan in 2015, said industry consultancy firm iResearch Consulting Group. It estimates revenue is on track to break 55 billion yuan by 2020.
Many places are building VR industrial parks to help keep up with the anticipated growth of VR-related businesses, which will focus on hardware and creating video content. In late February, the first VR industrial park was built in Fuzhou, capital of East China's Fujian province.