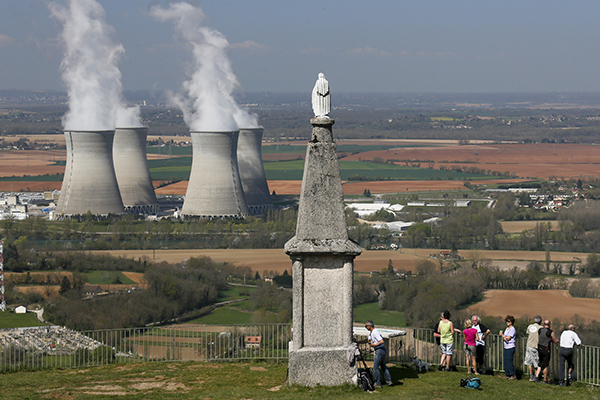 Steam rises from the cooling towers of the Electricite de France nuclear power station at Le Bugey in Saint-Vulbas near Lyon. [Photo/Agencies]
EU competition approval also given for Hinkley Point
Top officials at China General Nuclear Power Group are in discussion with their counterparts at French power company Electricite de France, on the necessary terms to finance their joint nuclear power project at Hinkley Point in the United Kingdom.
Hinkley Point C is the UK's first new nuclear plant for a decade, and is needed to replace aging reactors and polluting coal plants.
The project is being financed 66.5 percent by EDF, with a Chinese consortium led by CGN providing the rest.
"We are carrying out negotiations with EDF, and will put forward measures to reach the final decisions soon," He Yu, CGN's chairman, told China Daily.
"We are very confident about the project."
He said the company is preparing for the preliminary review of Generic Design Assessment by UK regulators which looks at risk in terms of the safety, security and environmental effects of the technology being used at the site.
"We will try to start the GDA process within the first half of this year," he said, adding that it is likely to take about five years to fully assess and investigate the new design.
The Hinkley Point project is already well under way.
The plant, using EDF's technology, is due to be completed by 2025, when it will provide an estimated 7 percent of the UK's electricity needs.
With the conditions to allow the Hinkley Point project to go ahead, CGN also plans to push the development of Hualong One, its homegrown nuclear reactor design, for use in the Bradwell B project in the UK.
He was speaking as the project partners won regulatory approval from the European Union's competition authority on Thursday to build and operate the Hinkley Point plant.
The European Commission said it did not see any serious competition issues.
"The commission's investigation found that competition in the wholesale supply of electricity in the UK will not be hindered by the transaction given the moderate market share of EDF, the very limited market shares of CGN in this market and the presence of other competitors," it said in a statement.
He's remarks also came as Chris Bakken, the US-born project director of the nuclear power project, resigned to become chief nuclear officer at Entergy Corp in the US, according to the Financial Times, who quoted Bakken and his employer EDF.
Philippe Bordarier was named as chief nuclear officer for EDF Energy Generation, to take charge of the project.