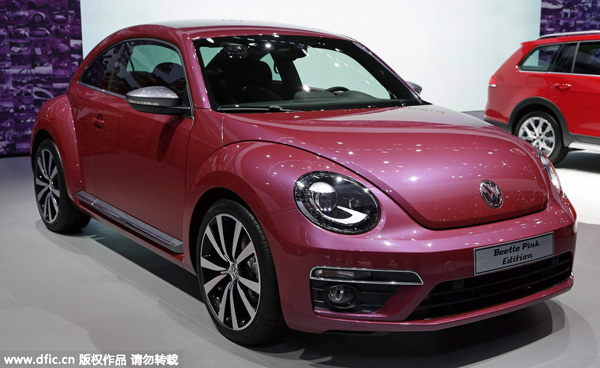 The new Volkswagen Beetle Pink Edition is seen on display at a press event at the 2015 New York International Auto Show at the Jacob K. Javits center in New York, the United States, April 2, 2015. [Photo/IC]
Volkswagen companies in China established a Special Channel program on April 2 for the recall involving Sagitar and Beetle customers, promoting highly-efficient communications and services through new 24/7 hotlines.
The specialized service is lead by the top management teams at Volkswagen Group China, FAW-Volkswagen Automotive Co Ltd and Volkswagen Group Import Co Ltd and a specialized monitoring team is assigned to secure the effectiveness, according to a VW China news release.
The special team, with dedicated personnel from Volkswagen China, will closely monitor and evaluate the implementation of the program for customers' satisfaction. The team will audit the speed and quality of response, and visit authorized dealerships to inspect cases that have been handled. They will also collect and analyze customer feedback and facilitate effective solutions to customers' concerns and difficulties.
Affected Sagitar and Beetle customers can contact Volkswagen directly through the Special Channel by calling new, dedicated 24/7 service hotlines for rapid response. The customers may dial 4008-590-017 for Sagitar, or 4001-606-660 for Beetle.
About 75.8 percent of the affected Sagitars have completed the installation of metal plates to rear torsion crank axles in the first three months. The implementation rate for Beetles reached 66 percent. The recalls of Sagitars and Beetles started from Feb 2 this year.