Microsoft Corp's China company started in December last year disassembling its mobile phone facilities in Dongguan, Guangdong province, and hope to move the productivity to Hanoi plant in Vietnam by the first quarter.
Bloomberg economists Tom Orlik and Fielding Chen wrote in a report that Chinese working-age population is shrinking, and a larger role for the job-intensive services sector means high employment can be secured at lower growth rates.
However more international giants expand their production base in the country last year:
10
Honeywell Turbo Technologies's $10 million Wuhan plant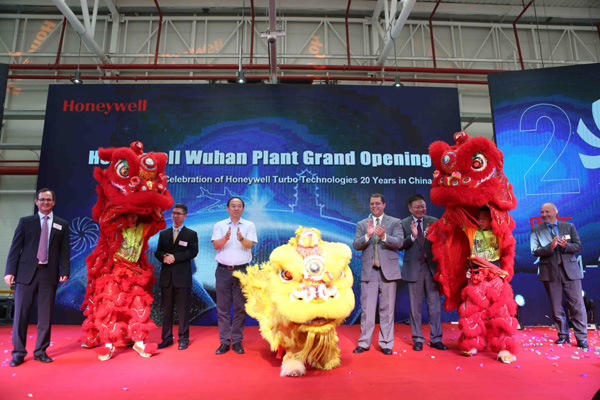 Honeywell Turbo Technologies celebrates the grand opening of its new turbocharger plant in Wuhan, Sept 3, 2014. [Provided to chinadaily.com.cn]
Honeywell Turbo Technologies opened a new turbocharger plant in Wuhan in September. $10 million will be put into the new plant in 2015. Another two assembling lines and one machining line can be added on demand next year.
The new manufacturing facility will triple Honeywell's turbo production capacity in China, where turbo adoption in new vehicles is expected to increase significantly from today's turbo penetration rate of 23 percent.