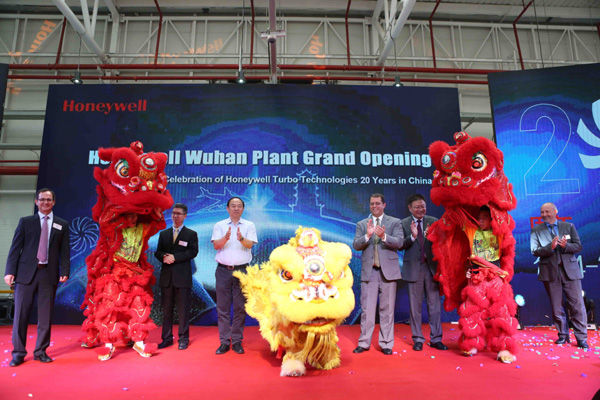 Honeywell Turbo Technologies celebrates the grand opening of its new turbocharger plant in Wuhan, Sept 3, 2014. [Provided to chinadaily.com.cn]
Two decades after entering China, Honeywell Turbo Technologies has been growing as the Chinese car market expanded to become the world number one. The leading automotive turbocharger developer opened its new plant in Wuhan on Wednesday, as demand for turbochager jumps.
Four assembling lines and two machining lines will be put into production this year. The new manufacturing facility will triple Honeywell's turbo production capacity in China, where turbo adoption in new vehicles is expected to increase significantly from today's turbo penetration rate of 23 percent.
Honeywell Transportation Systems President and CEO Terrence Hahn said that "We are really excited about the prospects of the turbo market in China, which already accounts for one-fourth of our global launches this year."
"The new facility in Wuhan builds on 20 years of Honeywell's Turbo presence in China, providing the most advanced turbo technologies to local and global customers, faster and better than ever," Hahn continued.
Honeywell's new Wuhan plant is strategically located in one of China's major auto hubs. It spans a total area of 12,550 square meters and is quickly ramping up since it started operations at the end of 2013.
"$10 million will be put into the new plant next year. Another two assembling lines and one machining line can be added on demand next year," said Quan Bin, technical manager at Honeywell's turbocharger technology department.
With China's keen focus on improving fuel economy and reducing emissions, turbocharging has evolved from a niche technology to a mainstream solution for Chinese consumers.
As China's fuel economy target tightens from 6.9L/100km in 2015 to 5L/100km in 2020, the world's largest auto market is shifting to a "Turbo Era". Compared to a naturally-aspirated gasoline engine of the same power output, a turbocharged engine provides up to 20 percent better fuel efficiency for gasoline vehicles and up to 40 percent for diesel, while helping reduce emissions by a similar relative amount.
"This new plant further strengthens our commitment to China," said David Paja, vice-president and general manager, Honeywell Transportation Systems China and India.
"Our strong local roots already include a manufacturing facility in Shanghai and a world-class technology center including our second largest global turbo lab. The Wuhan plant includes the latest manufacturing technology for passenger vehicles and puts us in a better position than ever to turbocharge China's future," added Paja.
Honeywell Turbo Technologies established its first plant in Shanghai in 1994, and has since produced more than 8 million turbos, serving customers in all segments from on-and-off highway commercial vehicles, to light commercial vehicles and passenger vehicles.
Honeywell Turbo Technologies is the leading automotive turbocharger developer in the world, and is a business unit of Honeywell Aerospace. As a leading automotive supplier, Honeywell enhances vehicle performance and efficiency through state-of-the-art technologies.