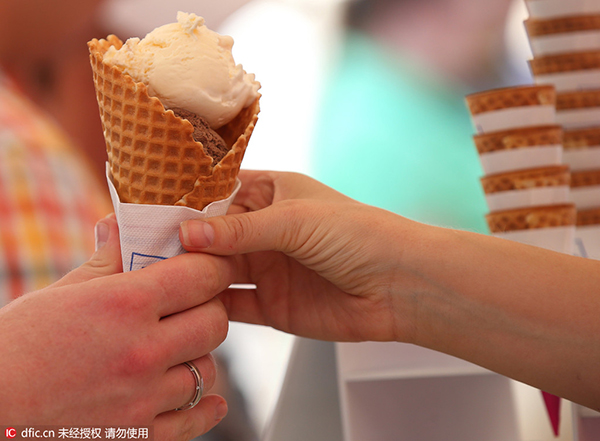 A girl buying an ice cream cone on a hot day during the Ice Cream Festival in Moscow, Aug 2, 2014. [Photo/IC]
Chinese consumers take a shine to greater variety of tummy-friendly desserts
The pleasure of enjoying a scoop or two, or a cone or a tub, of ice cream is often accompanied by the guilt of consuming too much fat and sugar.
As summer's intense heat approaches, more and more consumers must balance the temptation to gorge on ice cream with personal health concerns.
Many consumers refuse the indulgence of ice cream to remain fit but sometimes pleasure can exist without guilt-in recent years, healthier alternatives have become a trend in the market.
Vivienne Li, the owner of Vivi Dolce, which is one of the most successful gelato studios in Beijing, said she has noticed a shift in Chinese preferences toward a greater, healthier variety of ice cream.
"As consumers upgrade their consumption habits, new types of ice cream are made from organic and natural ingredients-such as gelato, sorbet, and other reduced fat products," Li said. "(They) are certainly becoming more popular."
According to a 2015 report by research firm Mintel, more ice cream-5.9 billion liters-is consumed in China annually than anywhere else in the world.
Thibaud Andre, senior consultant and marketing manager at Daxue Consulting, said the average amount of ice cream consumed per person annually in China is about 4 liters.
Many brands have introduced low-sugar, low-calorie or low-fat products in China. For example, a number of gelato boutiques have appeared throughout China, allowing customers to finally indulge in the frozen low-fat Italian delight.
Andre said the markets in China for ice cream and healthier alternatives have each been expanding and trending upward, emphasizing the promise of frozen yogurt specifically.
"A trend has been that the ice cream industry is trying to get health-friendly, with low calories and low-carb options, but it is playing catch-up to frozen yogurt," Andre said. "Besides health concerns, two more innovations in the frozen yogurt industry-on-site consumption and the ability to add your own flavors and toppings-may give it a slight advantage in growing popularity, but both markets are growing relatively nicely."
Andre credits those innovations to frozen yogurt's marginally greater success than ice cream in spreading health consciousness among consumers. Furthermore, he suggested a greater variety of local brands and thus competition in the ice cream market has made it difficult for more traditional Western brands to capture the market.
One foreign frozen yogurt brand that has found success in China is the California-based Menchie's. In its 14 years operating in China, it has expanded to five stores and without detailing specifics, said Frank Fan, director of operations of Menchie's China. The brand is planning an expansion in China, he said.
Fan further said Menchie's success is due to its specially designed special flavors such as durian and matcha that appeal to Chinese consumers, along with the ability to dine-in after purchasing à la carte a personalized assortment of toppings.
"I'm very optimistic about frozen yogurt in China," Fan said. "For now, fro-yo is not a popular product, but more and more brands are targeting the Chinese market."
Although China is now the largest ice cream market in the world, there is much catching up to do on a per-person basis compared to its Western counterparts, giving firms like Menchie's even more hope for expansion.
Andre said besides 4 liters of ice cream, a Chinese consumer savors 4 to 5 liters of frozen yogurt on average annually. That is still four times less than the corresponding figures in the United States.
According to Mintel, although China overtook the US as the world's largest ice cream consumer, the latter with far fewer people still managed to consume 5.8 billion liters-just 1 million liters less than China last year.
Ni Yuchen and Wyatt Bush contributed to this story.