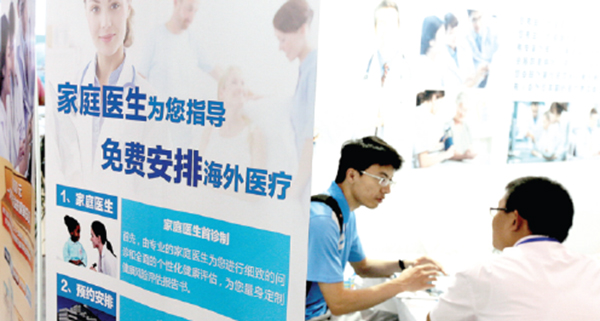 A visitor consults a medical service agency for overseas treatment and healthcare at an international tourism expo in Beijing. [A Qing/For China Daily]
People seeking advanced treatments and diagnostic checks abroad are projected to spend billions of dollars next year
More and more Chinese from well-to-do quarters in need of advanced medical care are going abroad, particularly to the United States. They are the consumers of the global medical tourism industry.
The number of such consumers globally doubled to 40 million in six years since 2006. In 2013, their total spending reached $438.6 billion, or 14 percent of the global tourism industry.
Next year, it is projected to reach $678.5 billion or 16 percent of the global tourism industry, according to a survey by the Stanford Research Institute.
Cai Jiangnan, director of the Center for Healthcare Management and Policy with China Europe International Business School, attributed the trend to three reasons: better medical environment and service abroad, state-of-the-art technology and availability of latest medicine.
Wu Ming, 65, will probably agree. A two-month medical trip to California helped him to bounce back to good health and work from cancer.
Wu had lost two years after starting to feel physical discomfort in 2012. A medical examination at a local hospital in Shanghai showed nothing abnormal. It was not until September 2013 that he was diagnosed with late-stage prostate cancer.
Learning that traditional treatment would do little to tame the disease, Wu turned to a Shanghai-based overseas medical treatment service provider in September 2014. Two months later, he received a particle therapy treatment in the US.
"Only 3 percent of the wealthy in China could go abroad for medical treatment in 2011. That figure jumped to 40 percent in 2015. The number of Chinese seeking overseas medical services increased threefold in the October-December quarter of 2015 compared to the early part of the year," Tang Heng, executive partner of GTJA Investment Group, told China Business News.
There are no official figures for Chinese medical consumers overseas. Yet, quite a few foreign medical players are extending their business to the Chinese market.
According to Fan Tailai, general manager of MEGA Healthcare, at least 3,000 Chinese may have availed of modern healthcare services in the US by flying out of Shanghai in 2013.
"The actual number could be higher. As new visas are valid for 10 years, people can go on a medical tour even if their visas are for pure travel or visiting reasons," Fan said.
The average cost of medical treatment for a serious illness works out to about $150,000 in the US.Most of the Chinese patients visiting the US come from major cities such as Beijing and Shanghai.
Chen Jiaye, 37, and her family went to the US for a one-month visit last year. She spent around 20,000 yuan ($3,036) for a physical examination in Los Angeles. She is now considering regular health checks abroad.