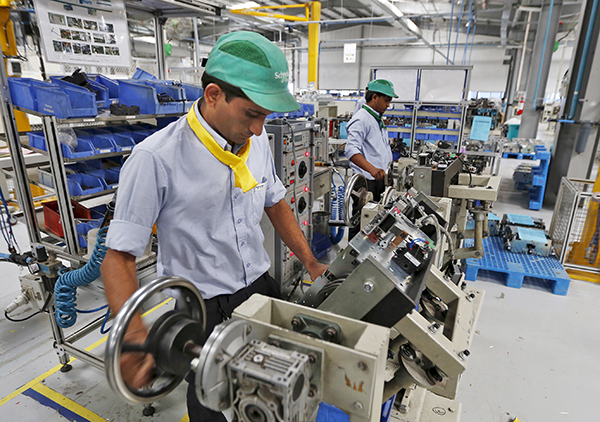 Workers assemble switchgears in the plant of Schneider Electric Infrastructure Ltd on the outskirts of Vadodara in Gujarat, India. [Photo/Agencies]

Move to help company gain more quality technologies from selected Chinese enterprises
French electric equipment and automation company Schneider Electric SA will invest in more small and medium-sized high-tech companies in China through a specialized investment fund, and provide training and learning materials to up to 100 vocational schools this year, its China president said.
Zhu Hai, who is also the electric automation company's global executive vice-president, said these activities would help the company gain more quality technologies from selected Chinese SMEs, as well as enhance the company's ability to diversify its business.
With revenue of 27 billion euros ($30.6 billion) in its 2015 fiscal year, Schneider has 160,000 employees in more than 100 countries and regions.
China is now the company's second-biggest market. It operates 26 plants, eight logistics centers, three research and development centers and 40 branches in China.
Schneider has transferred up to 2,500 jobs from China's coastal areas to major cities in the central and western regions such as Xi'an and Wuhan. That is to help expand market share in the regions, which have surging demand in the power, infrastructure and manufacturing sectors.
Zhu said even though many global companies are confronting difficulties such as declining demand and rising labor and production costs, smart manufacturing will continue to be the key factor in determining competitiveness.
Many countries have identified digital, intelligent and green sectors in the drive to develop high-end manufacturing, he said.
"Smart manufacturing has distinct developing trends-smart equipment, smart control, the internet of things, and IT hardware and software," Zhu added.