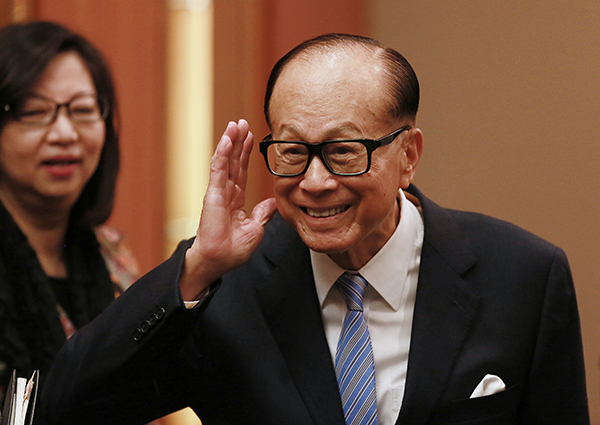 Li Ka-shing, chairman of CK Hutchison Holdings and Cheung Kong Property Holdings
Hong Kong's richest man said the Chinese mainland's economic outlook is bright in the long term, casting a vote of confidence in the economy that has witnessed slower growth in the past quarters.
China continues to have a trade surplus, the services industry is generating income and foreign money is flowing in, billionaire Li Ka-shing said in his first interview with international media since 2012. He also indicated that investors focusing on the country's rising debt levels are missing out on the larger picture.
"The long-term outlook for the mainland is good," the 87-year-old chairman of CK Hutchison Holdings Ltd said from his office atop the Cheung Kong Center building in downtown Hong Kong. "People only see the debt in the State-owned enterprises and in households, when they need to recognize that China is a big exporter."
Those export receipts-a "positive for China" according to Li-helped the trade surplus swell to 3.7 trillion yuan ($560 billion) last year, providing a buffer as the weaker yuan spurred capital outflows.
Li's confidence in the world's second-largest economy comes amid signs of stabilization thanks to government stimulus measures.
Li, who was born in the southeastern Chinese city of Chaozhou, has much at stake in the mainland. His real estate unit, Cheung Kong Property Holdings Ltd, counts about half its revenue from there and has dozens of properties in the mainland. His flagship company, CK Hutchison, generated 14 percent of its earnings before interest and taxes from the mainland, where he operates about 2,500 Watsons and ParknShop stores.
Also during the interview with Bloomberg, Hong Kong's richest man stepped up his calls for Britons to vote in favor of staying in the European Union as the world braces for the outcome of this week's vote.
"If Brexit happens, it will be detrimental to the United Kingdom and it will have a negative impact on the whole of Europe," Li said.
"Of course I hope that the UK doesn't leave the EU."
As one of the UK's biggest investors, Li has much at stake in the June 23 referendum and his concerns echo those voiced by business and market leaders worldwide as they prepare for the possible fallout from Britain leaving the 28-nation bloc.