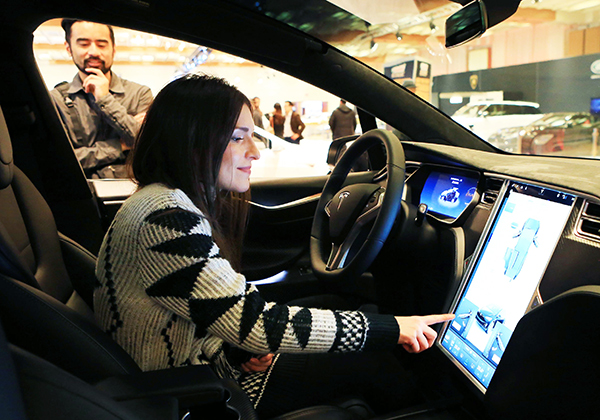 A woman experiences the touch screen of a Tesla car during an auto expo in Toronto, Canada. [Photo/Xinhua]

Location of the production facilities still at evaluation stage, sources say
Jinqiao Group denied on Tuesday that it had signed a memorandum of understanding with Tesla Motors Inc to build Tesla production facilities in Shanghai.
Shares of the publicly listed arm of the Shanghai government-owned company surged to the daily limit on Tuesday morning after Bloomberg reported it had signed a non-binding memorandum with Tesla.
Bloomberg reported that each side may invest about 30 billion yuan ($4.5 billion) in the partnership, with Jinqiao putting up land for most of its shares.
"We have not signed any document with Tesla," the company said in a statement on Tuesday afternoon after its shares were suspended from trading.
An unnamed source told China Daily that Tesla had not signed a memorandum with Jinqiao.
The source, who asked not to be identified as the matter is very sensitive, said the location of the Tesla China factory is still at the evaluation stage.
Tesla released a statement on Tuesday, saying that the company would not comment on rumors or speculation.
Tesla plans to build a factory in China by the end of 2018. China became Tesla's second-largest market after the United States in the first quarter of 2016, with a more than 300 percent annual growth rate.
The electric-car maker faces import duties of 25 percent.
"Building a factory in Shanghai is not impossible, but the way of releasing the news violates the procedure," said Zeng Zhiling, managing director of LMC Automotive Consulting Co Ltd.
Foreign electric-car makers are not allowed to establish wholly owned e-car factories in China. Zeng said Tesla has to partner with a Chinese carmaker or a Chinese company qualified to produce electric cars.
According to Zeng, Jinqiao is just providing the land and is not qualified to produce electric cars, so there is an important third party missing.
"Local governments would be waiting in line and welcome Tesla to build a factory in their regions. They might even be willing to spend from their own budgets to make the factory ready to use for Tesla," he said.
Zeng said Tesla's main concern in China would be how to sell its locally made model 3, whose retail price would be around 400,000 yuan after taking into account tariffs and the exchange rate.
Competition in this price range is quite fierce in China, Zeng said.