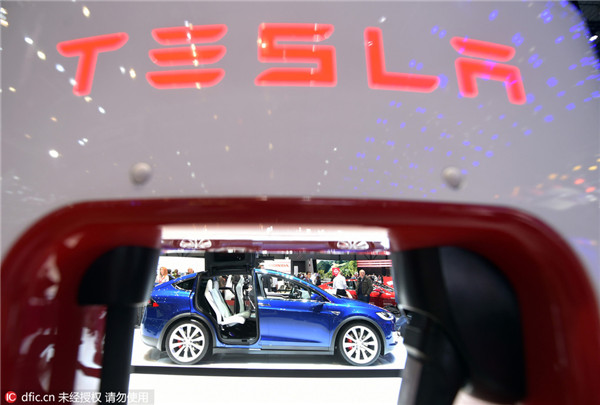 The Tesla X is presented at the Geneva International Motor Show during the second press day in Geneva,switzerland, March 2 2016. [Photo/IC]
Despite an uptick in Tesla 3 preorders here, making China the biggest market outside the US, the electric car titan still needs a convincing scale before it decides to add a production site, said Tesla co-founder JB Straubel.
Adding a factory only makes sense after the market has reached a "critical mass", said Straubel, Tesla's Chief Technology Officer and co-founder, on Thursday, damping speculation that a new site in China is imminent.
Straubel spoke to China Daily while attending the International Transport Forum (ITF) 2016 summit in Leipzig, Germany.
Jon McNeill, Tesla's president of global sales, raised speculation about a site in China after he talked about China as a potential candidate for a factory to satisfy Model 3 demand in a recent interview.
The first mass-market car Tesla launched on April 1 has received the second-most preorders from China, according to Ren Yuxiang, Tesla's head for Asia Pacific, who didn't disclose the specific figures.
The country was Tesla's second largest market last year despite a slump in revenue.
The ITF at the Organization for Economic Co-operation and Development (OECD) has 57 member countries including China and organizes the annual summit of transport ministers.
This year's summit, under the theme of green and inclusive transport, has attracted over 1,000 policymakers as well as industry professionals from 71 countries.