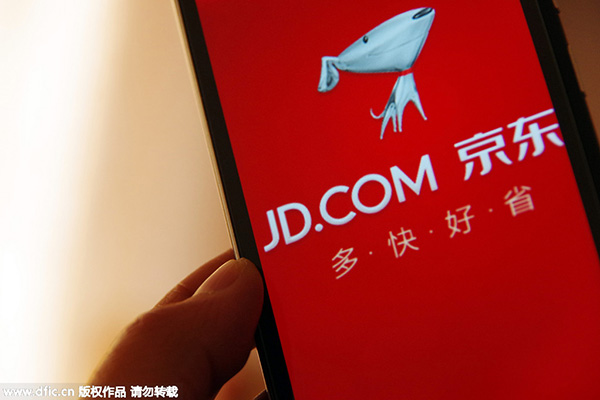 A mobile phone user uses the mobile app of Chinese online retailer JD.com on his smartphone in Zhengzhou city, central China's Henan province, Oct 3, 2015. [Photo/IC]
JD.com Inc's partnership with Wal-Mart Stores Inc will arm it with more ammunition to take on Alibaba Group Holding Ltd, giving the Beijing-based company wider access to online groceries and more resources to expand in eastern China, experts said.
JD, a leading e-commerce platform in China, said on Monday it would take ownership of Yihaodian, an online marketplace run by Wal-Mart, which in return, will hold a 5 percent stake in the Chinese online major.
As part of a strategic partnership deal, the Chinese branch of Sam's Club will open a store on JD's platform, which is backed by Tencent Holdings Ltd. The two will also link up their supply chains and share delivery services.
Richard Liu, CEO of JD, said: "Yihaodian's competitive presence in eastern China will help cement our business there."
JD's shares jumped 4.62 percent on Monday, closing at $21.06 on the Nasdaq.
The move came as JD and Alibaba are scrambling to get a foothold in the online grocery sector, which is believed to be the last "blue sea" in China's mature and crowded e-commerce market.
Huang Gang, an expert at the China Federation of Logistic and Purchasing, said JD has already established itself as the country's leading platform for consumer electronics and books.
"Now it is in desperate need of Yihaodian's online grocery experience to further chip away at Alibaba's market share," Huang said.
Wal-Mart's global supply chain will also help JD expand its offering of imported goods, to tap into Chinese consumers' growing appetite for overseas products, Huang added.
JD's revenue growth has outpaced Alibaba for the past seven quarters, thanks to its efficient delivery services and an expanding product portfolio. Still, its market share stands at 23 percent, trailing behind Alibaba Tmall's 58 percent, data from iResearch Consulting Group show.
Dong Xu, a Beijing-based analyst at internet consultancy Analysis International, said the prospects for Yihaodian are not so bright.
"After integrating Yihaodian's resources into its own platform, JD may choose to close it, just like how it did with paipai, an e-commerce offshoot the company obtained from Tencent," Dong said.