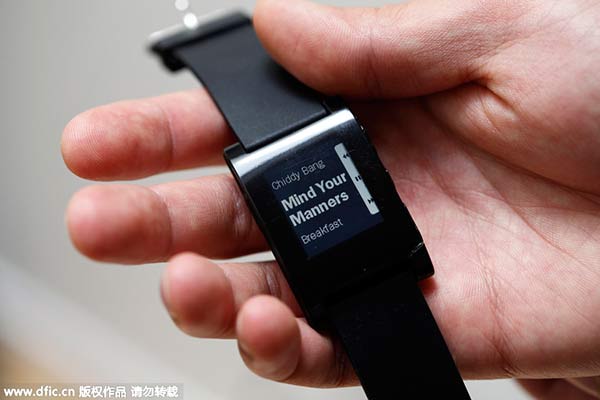 A smartwatch can pair with smartphones to alert the user of incoming calls, to tell time and allows users to change music. [Photo/IC]
Tianjin Chase Sun Pharmaceutical Co Ltd, a high-tech medicine and health industry group, has extended its lines of business from manufacturing traditional Chinese medicines to making wearable medical equipment.
These devices, such as pulse oximeters, sleep monitors and blood pressure monitors, are designed for family use. Wu Fen, president of the company, said that future focus will be on further developing medical wearables.
Established in 1996, the company's sales revenue reached 4.5 billion yuan ($680 million) in 2015. As of the beginning of this year, it had total assets valued at 6.4 billion yuan and a market value of 15 billion yuan, with more than 5,400 employees. Sales revenue is expected to reach 5 billion yuan in 2016, up from 260 million yuan in 2009, according to Wu.
The company's business strategy focuses on technical innovation and continuing to strengthen research and development capabilities.
In 2014, it implemented an equity incentive plan for 70 key members engaged in scientific research, to stimulate their creativity and vigor. Ten percent of its annual sales revenue is used for supporting the innovation team and for hiring senior talent.
"We always pay attention to the need to motivate talent to be innovative. We have attracted a batch of top talent to join our company through this mechanism," Wu added.
By 2020, the scale of our talent will double, and the core members will increase to 800 or 1,000," he said.
The State Council, China's cabinet, issued in February a guideline on developing the TCM during the period of 2016-2030. According to the plan, the output of the TCM industry will account for 30 percent of the nation's overall pharmaceutical industry.
Tianjin Chase Sun Pharmaceuticals has established industry clusters in a number of fields, including raw materials production, Chinese herbal medicine planting, modernized TCM preparation, TCM formula granules, synthetic drugs, medical apparatus, wearable medical products, and internet-based therapy.
Moreover, since the company was listed on the Shenzhen Stock Exchange in 2009, it has stepped up the pace of mergers and acquisitions to enter into more fields.
It has acquired and reorganized 28 enterprises by a variety of financing methods.
For instance, in 2012 it purchased Beijing Tcmages Pharmaceutical Co. Ltd., which specializes in research and production of TCM herbal granules.
Last year, it bought Beijing Choice Electronic Tech Co Ltd, a medical monitoring equipment manufacturer, for 1.57 billion yuan, to tap into the wearable medical equipment field.