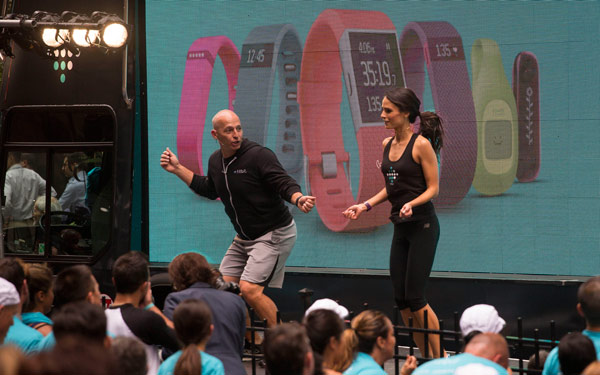 Celebrity trainer Harley Pasternak and actress Jordana Brewster lead a workout outside the New York Stock Exchange after Fitbit Inc's initial public offering last June.[Photo/Agencies]
Sportswear firms and niche apps are not the only ones riding the wave of fitness craze in China. Makers of wearables devices like smart bands and watches have jumped on the fitness products bandwagon, promising to bring brands that are already making waves in advanced markets.
They are out to impress prospective consumers such as Zhang Xue, a 27-year-old primary school teacher in Beijing. Zhang is on the lookout for a smartwatch and has been trawling Alibaba Group Holding Ltd's Tmall platform and other online shops to pick the best deal.
"I want to buy a smart device that can analyze my daily exercise and tell me more about calories burned, the number of paces taken and distance covered. I haven't decided which one to buy because there are too many brands."
Not all sports lovers are undecided like Zhang. Most of them already have smart bracelets, which are set to record their daily running distance, duration of sleep and calories consumed.
Chinese technology major Xiaomi Corp said it sold more than 10 million units of Mi Band, its smart wristband, last year.
Prices of such wearables devices range from 39 yuan ($5.9) to 3,480 yuan on Tmall. For such price tags, devices pack quite a punch, in terms of their capabilities.
Early this month, the United States-based Fitbit Inc, the world's largest manufacturer of wearables fitness bands, announced the launch of a smart fitness watch called Fitbit Blaze, a trailblazer of sorts.
Blaze is the first fitness tracker boasting a color touch-screen, which should help Fitbit to compete with its rivals, including Apple Inc, Samsung Electronics Co Ltd and Microsoft Corp.
Blaze offers new free features like FitStar, a suite of workout videos from personal trainers, and SmartTrack, an exercise-sensing software that can automatically recognize and record activities such as riding, hiking, running, boxing and dancing.
What's more, it can even give rewards to users after a satisfactory workout or physical activity.
That's not all. Blaze contains standard health-tracking options like heart-rate monitor PurePulse, activity and sleep trackers, and GPS capability-features that made Fitbit's previous products Charge and Surge popular.
Fitbit also makes a range of fashionable watchbands in different styles and colors using material like leather, stainless steel and elastic.
James Park, co-founder and CEO of Fitbit, said in a company statement: "We continue to explore in the industry and found the most important point is the personalization of fitness. Fitbit Blaze makes effort to satisfy users' individual requirement, and meanwhile stimulate users to realize the predetermined fitness target faster."
It was made available at $199.95 during a presale on fitbit.com. On Jan. 6, it was launched at major North American retailers. Global retail sales are slated to start in March.
Other wearable device makers are not far behind. For instance, Jawbone Inc, a leading consumer technology and wearable devices firm in the US, launched a smart wristband as early as 2013.
Data released by consultancy firm International Data Corp showed that the total shipments of global wearable devices will top 111 million units this year from about 80 million units last year, up 44 percent. Smart watch and smart band shipments will likely reach 34.30 million units this year from 21.30 million units last year, up 61 percent.
It said the Apple watch accounted for 61.3 percent of the market share in 2015, followed by Google Inc's Android Wear and Pebble Technology Corp's Pebble Smartwatch, which took 15.2 percent and 8.6 percent respectively.
Senior analyst Jitesh Ubrani of IDC said wearable technology will evolve from the smart watch to fitness-oriented products like smart clothing, smart glasses and smart earphones in future.