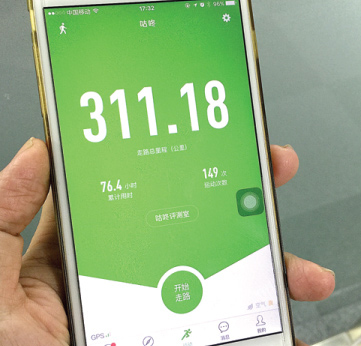 The Codoon app shows the distance its user has walked in 76.4 hours. [Photo/Provided to China Daily]
Xiao Liang, a 28-year-old engineer, celebrated the New Year by competing in a marathon. Well, sort of. Instead of flying to Xiamen, an eastern port city in Fujian province where the event was held, he attended the marathon's "online version" in Beijing, by making use of Codoon, an app for hand-held devices.
Wearing a smartwatch equipped with Codoon, Xiao started running at the same time as the runners in Xiamen. Codoon kept track of his running route and time using GPS technology.
"The app obviated the need for me to travel to Xiamen and offers a cost-efficient way to access marathon events," he said.
When he reached the finish line, so to speak, the preset app reported the results to the event's authorized online organizing committee, which later awarded him a medal. "Though the medal is not the same one offered to offline runners, it is also of considerable meaning," he said.
Xiao was one of 120,000 registered runners who had planned to used Codoon to attend the "online version" of Xiamen marathon on Jan 2.
Running is in, and the latest fashion is sweeping China. According to data from the Chinese Athletics Association, more than 80 new marathon competitions have registered in 2015, taking their total number to more than 130 from 51 in 2014.
This has spawned a wealth of mobile apps like Codoon, which are scrambling to tap into people's desire to stay fit and healthy.
A quick search for yundong, Chinese for sports, yields links to more than 4,700 apps on Apple Inc's app store. "The past year has seen an explosion of sports-themed apps, partly stimulated by the government's policy," said Guo Yang, an analyst at Beijing-based Internet consultancy Analysys International.
He was referring to the document released in December 2014 by the State Council, China's cabinet, calling for more rapid development of the sports industry in China. "Since then, both startups and Internet giants are making inroads into the sports sector," Guo said.
Currently, sports-themed apps cover a wide range of niches. Apps like Codoon facilitate running, while online sites help users to book badminton courts. Then there are apps that offer slimming and bodybuilding courses. And, of course, apps for sports-based social networking too.
But, these apps are used less frequently than expected, according to a report by Chengdu-based Big Data Research Center.
In August, running apps ledongli.cn and Codoon, and slimming app ss.xikang.com, emerged the top three among sports apps. Yet, they have only 2.2 million, 1.6 million and 1.5 million regular users per month, respectively, it said.
"These apps offer services that are too similar and basic to differentiate themselves from each other," Guo at Analysys International said. "More value-added and diversified services are needed to cash in on the exercise boom in China."