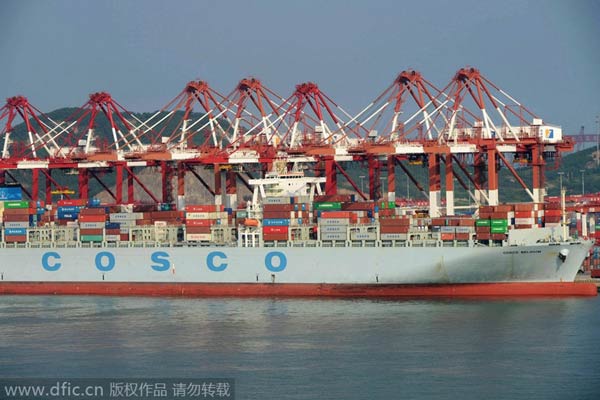 A fully-loaded container ship of COSCO departs from the Port of Qingdao in Qingdao city, East China's Shandong province in this file photo. [Photo/IC]
Chinese shipping giant Cosco consolidated its hold over the Greek port of Piraeus Wednesday, agreeing to pay 368.5 million euros for a 67 percent stake in the country's biggest harbor, after increasing its offer to clinch control over a key thoroughfare into Europe.
Cosco will pay 22 euros a share for the stake in Piraeus, according to the Athens-based Hellenic Republic Asset Development Fund. Cosco had been asked to submit a better offer last week after it emerged as the sole candidate bidding to buy the stake in Piraeus, an outcome that Greek officials called disappointing.
The offer accepted is a 70 percent premium to the closing share price of Piraeus Port of 12.95 euros Wednesday and values the entire business at 550 million euros. HRADF said the whole value of the Cosco agreement would come to some 1.5 billion euros, taking into account purchase price, investments, dividends and income from the concession agreement.
The result could provide Greek Prime Minister Alexis Tsipraswith some breathing space as he battles domestic opposition to state asset sales and tries to push through changes to pensions that have prompted strikes, including from seamen. Officials said last week the government would do its utmost to ensure Greece got the best possible price for a majority stake in Piraeus, a port that is key to China's plans to create a modern commercial empire pumping Chinese goods throughout the continent.
Hong Kong-listed, Chinese state-owned Cosco was the only confirmed bidder for the 67 percent stake in Piraeus, where Cosco already runs container operations at two piers. APM Terminals, owned by Danish shipping conglomerate AP Moller-Maersk A/S and Philippines-based port operator International Container Terminal Services Inc. were also short-listed but didn't put in a binding bid, dropping out at the last minute in the long-delayed sale.
Analysts see Chinese investment in Piraeus as a key part of China's One Belt, One Road policy, which envisages creating the 21st century land and maritime equivalent of the Silk Road. Since the Chinese shipping behemoth started container operations in 2009, traffic has surged at Piraeus, making the harbor one of the fastest-growing ports in the world. Premier Li Keqiang called Piraeus China's gateway to Europe in a visit to Greece in June last year.
The Piraeus sale is also seen as a yardstick in Greece's lacklustre state asset sales program, a key revenue-raiser tied to the country qualifying for billions in rescue funds from its European partners and the International Monetary Fund.
HRADF said Cosco agreed to mandatory investments of 350 million euros in the next 10 years and the income accruing to the Greek state from the concession agreement of some 410 million euros. The amount includes expected revenue from dividends and additional investments up to the end of the concession agreement in 2052.
Of the mandatory investments, 300 million euros will be spent in the first five years, mainly in relation to cruise and ship repairing operations. Officials expect Cosco could spend another 270 million euros in investments up to 2052. They said Cosco had originally bid 17.5 euros a share for the stake.
The transaction will be two-step deal: Cosco will buy a 51 percent stake in Piraeus for 280.5 million euros and will acquire the additional stake in the next five years for 88 million euros on completion of the terms in the shareholder agreement, including investments.
Greece will initially retain a 23 percent stake in the company, with that dropping to 7 percent on conclusion of the two-step process.
Cosco's supremacy at Piraeus is thought to be a prerequisite to unleashing more Chinese investment in Greece, where unemployment has soared and foreign investment dried to a trickle amid six years of political turmoil and concerns of financial collapse. Xinhua reported yesterday that the Chinese Prime Minister called Tsipras yesterday to underline China's keen interest in bolstering ties with Greece.
Greek officials expect Chinese investment in projects such as a major freight and logistics center on the outskirts of the Greek capital and a new airport planned for the island of Crete.
The Piraeus sale will be the first state asset sale the Tsipras government can claim since the leftist prime minister came to power a year ago, vowing to halt privatizations and tear up the two bailout agreements that forced higher taxes and cuts in wages and pensions on Greeks. He has tempered his tone since being forced in July to accept a new, 86 billion euro bailout to keep Greece in the eurozone.
Last month, the government wound up previously agreed deals for the privatization of 14 regional airports and the sale of seaside resort in Athens. Both those deals had been halted when Tsipras came to power last year.
Cosco has seen five separate Greek premiers, not including caretakers, since it won the license to operate Pier II in 2008 for 30 years at a cost of 490 million euros. The deal has become a regular campaign issue as Greek politicians seek votes from union workers, such as those in the Piraeus docks, unhappy about austerity measures.
Maria Petrakis is a freelance who contributed this to China Daily.