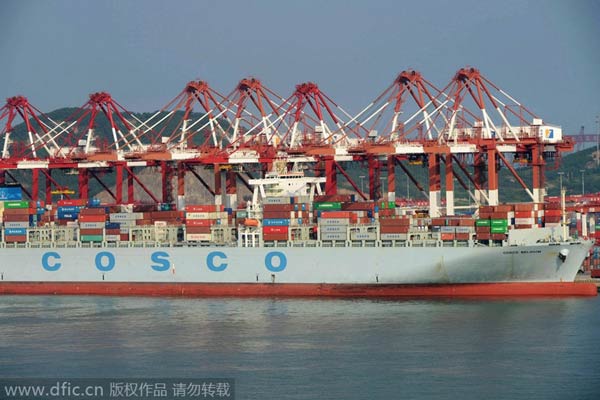 A fully-loaded container ship of COSCO departs from the Port of Qingdao in Qingdao city, East China's Shandong province in this file photo. [Photo/IC]
Greece's privatization agency board said on Tuesday that the Chinese shipping giant Cosco was the only confirmed bidder for a binding stake in the country's biggest harbour, but said it had asked Cosco for an improved financial offer which it would consider during the next week.
The announcement is the latest move in the long-delayed sale of a 67 percent stake in Piraeus Port Authority SA, where Cosco already runs container operations at two piers.
Cosco, the Hong Kong-listed, Chinese state-owned company, had always been considered a front-runner for the stake, given its foothold in the port. APM Terminals, owned by Danish shipping conglomerate AP Moller-Maersk A/S and Philippines-based port operator International Container Terminal Services Inc. were also short-listed to bid, but in the end only Cosco put in an offer.
The Piraeus sale is seen as an important development in Greece's lacklustre state asset sales program, a key revenue-raiser tied to the country qualifying for billions in rescue funds from its European partners and the International Monetary Fund. An eventual win by Cosco could unleash more Chinese investment, such as in a major freight and logistics center on the outskirts of the Greek capital and a new airport planned for the island of Crete.
Since the Chinese shipping behemoth started container operations in 2008, traffic has surged at Piraeus, making the harbor one of the fastest-growing ports in the world. The port plays a central role in in China's plans to create a modern commercial empire pumping Chinese goods throughout the continent. Premier Li Keqiang called Piraeus China's gateway to Europe in June last year.
Analysts see Chinese investment in Piraeus as a key part of China's One Belt, One Road policy, which envisages creating the 21st century equivalent of the Silk Road.
But investment has been delayed by Greece's travails as political turmoil and concerns of financial collapse led to a slump in foreign investment and record-high unemployment. To highlight the risks, on Tuesday, Eldorado Gold, the Vancouver-based gold producer with mining, development and exploration operations in Turkey, China, Romania and Brazil said it would suspend much of its Greek operations in part due to an "openly confrontational attitude" from the energy ministry since the beginning of 2015.
Leftist Prime Minister Alexis Tsipras came to power in January as a firebrand young prime minister who opposed state asset sales, sparking concern among Chinese officials about the fate of its investment. Tsipras vowed to tear up the two bailout agreements that forced higher taxes and cuts in wages and pensions. He has tempered his tone since being forced in July to accept a new, 86 billion euro bailout to keep Greece in the eurozone.
Cosco has seen five separate Greek premiers, not including caretakers, since it won the license to operate Pier II in 2008 for 30 years at a cost of 490 million euros. The deal has become a regular campaign issue as Greek politicians seek votes from union workers, such as those in the Piraeus docks, unhappy about austerity measures.
The head of the agency selling the stake, the Hellenic Republic Asset Development, has defended the Piraeus sale against criticism, including from some members of the Syriza party that Tsipras leads.
"The most important thing is for the process to be completed and for us to achieve the best possible price," Chairman Fund Stergios Pitsiorlas told Nea Savvatokyriko newspaper in an interview published on Sunday. "It is the most crucial phase of the bid process."
The newspaper Kathimerini quoting unnamed Cosco sources as saying its bid was satisfactory. Kathimerini reported that Cosco planned an investment of 296 million euros in the first five years and another 50 million over the next three.
Pitsiorlas said EU countries pulled in record amounts from privatization in 2014 and 2015, with Britain, Italy and Spain the leaders. Greece, where unemployment is the highest in the EU after six years of near-collapse, needs to understand that transforming its economy to be in a position to compete isn't a term of its bailouts but a path to prosperity for its people, he said. "And privatizations are a part of this process," he said. "If we see it that way, any discussion about selling the family silver becomes meaningless."
Trading in shares in the port were temporarily suspended today, pending an announcement from the port's owners.
The author is a freelance writer for China Daily Europe.