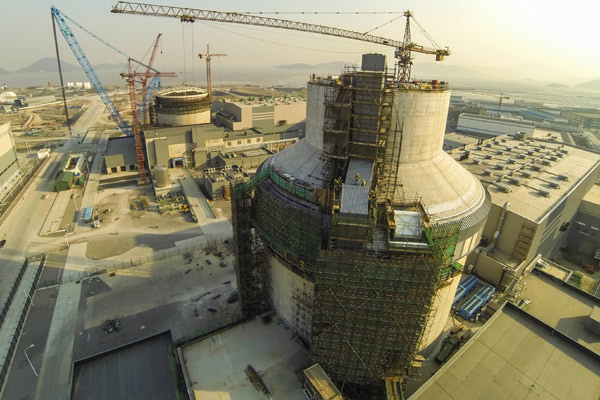 Nuclear reactors under construction in Sanmen, Zhejiang province.[Photo/Xinhua]
China Nuclear Engineering Group Corp signed an agreement with Saudi Arabia on Tuesday to develop its homegrown fourth-generation nuclear technology in the oil-rich Middle East country.
Gu Jun, president and general manager of CNEC, said the agreement was a major step toward the export of high-temperature gas-cooled reactors, an indigenous nuclear technology jointly developed by CNEC and Tsinghua University.
He made the remarks during a ceremony in Beijing held by the Fuzhou New Economic Area, in which the Chinese company plans to invest nearly 16.3 billion yuan ($2.48 billion) to build a nuclear manufacturing equipment industrial cluster and a production base for nuclear graphite, a key material used in high-temperature gas-cooled reactors.
"The timing is right for the export of such a type of nuclear reactor," CNEC said in a statement.
About 95 percent of the high-temperature reactor, which uses a graphite-moderated core with a uranium fuel cycle to generate heat with less radioactive effect and higher efficiency, can be manufactured domestically, apart from the nuclear graphite, which relies largely on imports.
Experts said despite Saudi Arabia being a fossil-fuel rich country, the country still needs to meet demand from growing energy consumption.
"Nuclear power plants with a design life of more than 40 years cannot only provide energy security but also have the potential to resolve growing emissions concerns in the Middle East," said Lin Boqiang, director of the China Center for Energy Economics Research at Xiamen University.
Saudi Arabia hopes to build 16 reactors by 2032 to meet its growing energy demand, involving a total investment of more than $80 billion. Its first reactor is likely to go on line in 2022, earlier reports said.
CNEC said it is also targeting other foreign markets including South Africa and the United Arab Emirates.
It said that the agreement with Saudi Arabia will bring other possibilities for nuclear cooperation between China and other partners along the Belt and Road Initiative, which includes more than 60 economies along the Silk Road Economic Belt and the 21st Century Maritime Silk Road.
Projects planned in the Fuzhou New Area
Projects worth 331.5 billion yuan ($50.3 billion) are being set up in the Fuzhou New Area of Fujian province by about 70 State-owned enterprises this year.
The investment will be spread over 64 projects, including those in high technology.
The Fuzhou New Area was approved by the State Council in September 2015 and is the 14th State-level area for regional development. State-level areas are special economic zones directly managed by the State Council for major national development missions. The Fuzhou New Area is expected to play a pivotal role in furthering cross-Straits exchanges and attract more modern industries to East China.
The projects include:
・ A 10 billion yuan investment by China Three Gorges Corp on an offshore wind power industrial park for technological research and development, equipment manufacturing, power station operations and maintenance.
・ The 30 billion yuan from Aluminum Corp of China Ltd for an aluminum refining project that will use advanced technologies to make aluminum auto sheets and architectural aluminum shuttering.
・ A 16.3 billion yuan investment by China Nuclear Engineering Group Co for an industrial park for nuclear-related businesses such as nuclear power equipment and nuclear-grade graphite production.
・ A 25.2 billion yuan investment from China State Construction Engineering Corp for the Metro Line 6 in Fuzhou, the capital city of Fujian province.
・ China Travel Service (HK) Group Corp's 15 billion yuan investment on a travel resort that encompasses hotels, ecological leisure activity bases and health centers.