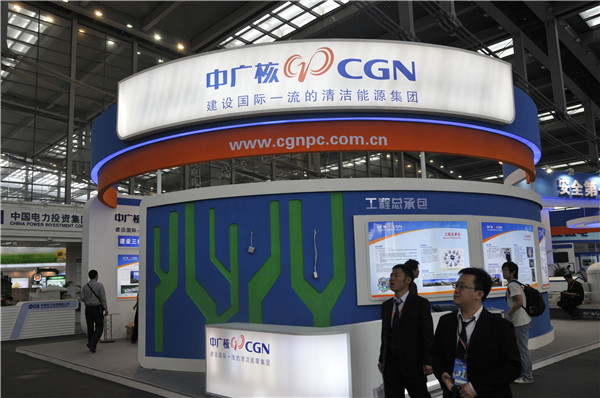 The stand of China General Nuclear Power Corp at an industry expo in Shenzhen, Guangdong province. PROVIDED TO CHINA DAILY 
ACPR50S can supply stable power, heat to islands, offshore projects, say sources
China is pressing ahead with its plans to set up an indigenously developed marine nuclear propulsion reactor by 2020, industry sources said on Thursday.
The demonstration project for a small marine nuclear propulsion reactor, called ACPR50S, will be included in China's 13th Five-Year Plan (2016-20) for the energy industry after getting the necessary approval from the National Development and Reform Commission, the top economic planner, said China General Nuclear Power Corp, a leading atomic power company.
CGN is currently working on the preliminary design for ACPR50S, which is expected to start construction in 2017 and be commissioned by 2020.
NDRC said that CGN needs to speed up efforts in the research and innovation of core technologies, design and key components in a way to meet the demand for "mass production" of maritime atomic propulsion.
The 200-megawatt ACPR50S reactor, which can be equipped inside a section of the ship, is able to supply stable and reliable electricity and heat to islands and some projects, which need to be at sea for long periods without refueling, such as seawater desalination and offshore oilfield exploration, CGN said.
"The project has broad applications in providing safe and stable energy for maritime resources exploration and development," CGN said.
The company is also developing another small nuclear reactor ACPR100 with a capacity of 450 mW per unit, which can be used in some remote areas and large industrial clusters, as a supplement to the large-scale land-based nuclear power plants.
While land-based nuclear reactors produce up to around 1,000 mW of power, a typical marine propulsion reactor produces no more than a few hundred mW, experts said.
A source close to the matter told China Daily that two nuclear majors-China National Nuclear Corp and CGN-are working with China Shipbuilding Industry Corp, a major shipbuilder, to build nuclear-powered vessels.
"Compared with conventional ships, nuclear-powered ships can travel further with more reliable fuel, enabling them to complete missions like polar expeditions," the source said.
In 2014, CSIC set up a national research center, called 719, to develop maritime nuclear power platform and core technologies in the field. The shipbuilder has also received NDRC approval last week to start research on a demonstration project for nuclear-propulsion vessels.