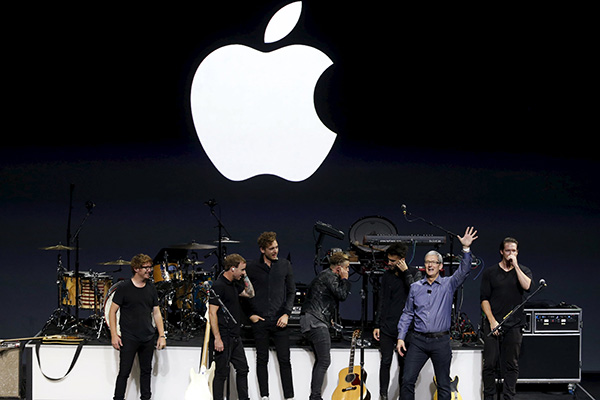 Apple Inc's CEO Tim Cook waves to the audience after a media event in San Francisco. Cook introduced a fair number of new devices at the event. [Photo/Agencies] 
XIAMEN -- Apple Inc continued its rapid expansion in China during the first month of 2016, opening five stores to tap the company's fastest-growing market.
On Thursday, it opened a store in the coastal city of Xiamen, the first in Fujian province and 26th on the Chinese mainland.
China is very important to Apple and the Apple stores in China are the busiest in the world, said Todd Mckean, Apple retail director.
Mckean said Xiamen is a major city and leading tourist destination on China's southeast coast. He believes the store will be quite popular there.
Apple also opened a store in the northeastern city of Shenyang last Saturday and is slated to open another in the eastern city of Nanjing this Saturday. Another two are scheduled to open in Guangzhou and Qingdao at the end of the month.
The US electronics maker set a target of 40 stores on the Chinese mainland in 2016.
China is Apple's second largest market in the world after the United States.