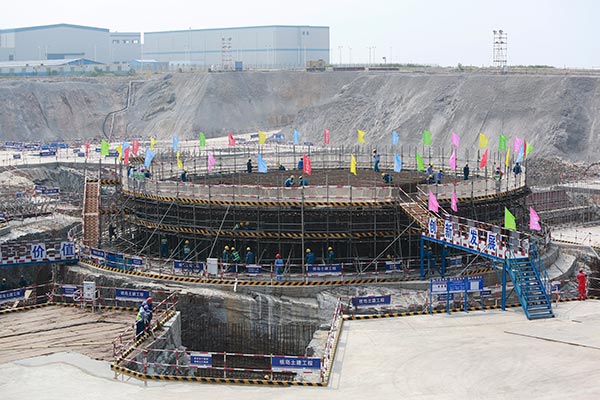 The construction site of CGN's Fangchenggang nuclear power plant unit 3 in Guangxi Zhuang autonomous region. [ZHANG LIN/CHINA DAILY]

Agreement to cover Fangchenggang plant's second phase work
Thailand's Ratchaburi Electricity Generating Holding Public Co Ltd has formed a joint venture with two Chinese companies to help develop and operate the second phase of the Fangchenggang nuclear power plant in Guangxi Zhuang autonomous region.
The partnership, with China General Nuclear Power Group and Guangxi Investment Group Co Ltd, comes as unit 3 at Fangchenggang started construction on Thursday.
The project is the demonstration plant for China's home grown reactor, known as HPR1000-the third-generation reactor design which was jointly designed by CGN and China National Nuclear Corp.
Ratchaburi, a subsidiary of the state-owned Electricity Generating Authority of Thailand, said in a statement it is likely to hold about 10 percent of the venture.
Rum Herabat, Ratchaburi's chief executive officer, said the project will be supported by Bangkok, and that the cooperation with the Chinese firms will help Thailand gain valuable experience in the technology needed to develop its own nuclear power industry.
He Yu, CGN's chairman, said: "By using domestically designed nuclear technology, the Fangchenggang nuclear power project is transforming China from a large nuclear country into a strong one," adding the project means "the firm had another name card on the international stage".
Observers said the participation in the project by the Thais will also help the cash-rich Chinese nuclear firms make inroads in expanding their presence in other countries across Southeast Asia.
CGN is planning to build a biomass power plant in Thailand, and there are other projects in the country in the pipeline. It has also been making huge inroads into the United Kingdom.