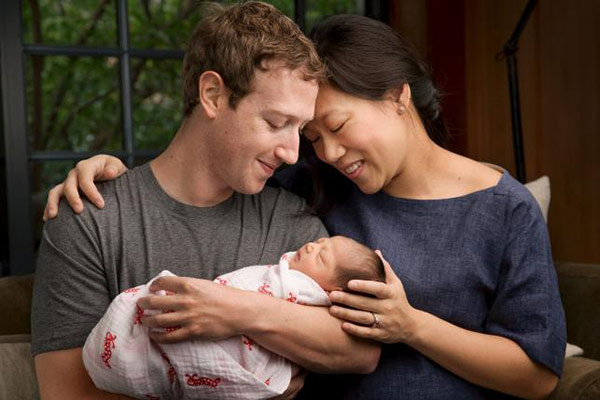 Facebook Inc Chief Executive Mark Zuckerberg and his wife Priscilla are seen with their daughter named Max in this image released on December 1, 2015.[Photo/Agencies]
Millennials, quickly becoming the dominant force in the United States labor market, are changing the dynamic between employee and employer as they seek enhanced benefits, increased flexibility and other workplace changes to keep their loyalty.
By 2025, the generation born between the early 1980s and early 2000s is expected to make up 75 percent of the global workforce, according to the Brookings Institution.
It is a generational shift that is bringing with it different approaches to work and company culture that businesses are heeding as they seek to attract and retain top talent.
"They are already having a dramatic impact on companies, forcing changes that I think are long overdue," said Kip Kelly, director of public programs at UNC Kenan-Flagler Business School in North Carolina.
"When millennials first started coming into the workforce, companies knew that they were different but they didn't have to adapt," he added. "Now, as more boomers leave, and more millennials work their way in, they have to adjust."
Earlier this month, online payments company PayPal Holdings Inc and Internet giant eBay Inc became the latest in a growing list of firms to improve maternity and family leave and other benefits. Facebook Inc also offered employees at least $10,000 to move closer to its Silicon Valley headquarters.
Airbnb Inc, the lodging website that topped company review website Glassdoor.com's 50 Best Place to Work in 2016 list, rewards its workers with a yearly travel stipend.
Karyn Twaronite, global diversity and inclusiveness officer at the professional services company EY, said improved benefits and greater working flexibility are becoming the new normal.
A 2015 EY study of 9,700 workers in eight countries showed 38 percent of US millennials said they would move abroad for better parental leave. Millennials are also more likely to change jobs or careers to manage work-life balance.
Twaronite said the finding "reinforces how incredibly important these types of benefits are".
Tech firms and startups have spearheaded changes and set an example from the top. Facebook CEO Mark Zuckerberg and Blake Mycoskie, the founder of Toms Shoes, each took leave after the birth of their child.
"What might look like a cost on the spreadsheets actually is an investment in higher productivity and engagement," Mycoskie wrote about the policy.
Toms, a one-for-one company that matches each pair of shoes purchased with a new pair for a child in need, exemplifies another attraction for millennials-social good.
"The idea of social good being baked into the company you work for is becoming a huge draw for millennials and something that they would discriminate between brands when they work for them," said Lucie Greene, worldwide director of the Innovation Group, the futurism unit at international advertising agency J. Walter Thompson.
Wellness is another theme, she added, as is understanding play in terms of productivity, with firms adding rock climbing walls, ping pong tables, yoga studios and more into the workplace.
"There is a lot more consideration with wellbeing, all with the endeavor of making us want to stay longer," she added.
Kelly said companies are also using mentoring and coaching programs to transfer knowledge before baby boomers retire. Although some firms may find the changes painful, he said he believes companies will benefit.
"You'll see more innovation. You'll see more collaboration. You'll see better productivity," Kelly explained. "Empowering employees with new tools and new resources because of millennials is going to help everybody."