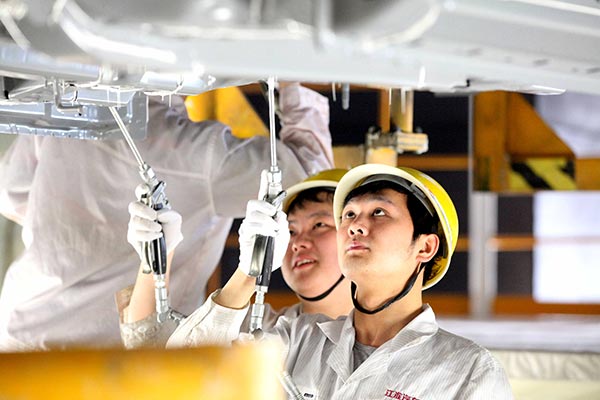 Workers at the production line of Anhui Jianghuai Automobile Co Ltd in Hefei, capital of Anhui province. [LIU QINLI / FOR CHINA DAILY]
Minister warns of 'long-term struggle' as country shifts to higher-quality future
Industrial output could well be the millstone for China's economic growth this year, an industry watchdog said on Thursday.
The annual expansion rate for industrial output will be around 6 percent this year, well below this year's GDP growth, which is likely to be about 7 percent, the Ministry of Industry and Information Technology said, adding that such a situation was happening for the first time in nearly two decades.
The ministry said year-on-year industry growth for next year would be about 6 percent, a strong indication that economic recovery may face more headwinds.
Miao Wei, minister of Industry and Information Technology, blamed weaker exports for the slowdown and said there has no significant recovery in the sluggish demand from domestic and overseas markets.
"The idea that the country will regain rapid growth through stimulus moves is not practical," Miao said. "We have to be prepared for a long-term struggle (that the industry output will maintain a slow growth)."
Industrial output has been a key driver for the Chinese economy since the data were made available in 1998, with the growth rate outpacing the GDP even during the global financial crisis in 2008, according to data from the National Bureau of Statistics.
Zhu Haibin, chief China economist at United States investment bank JPMorgan Chase & Co, said a slowdown in manufacturing sector could challenge China's growth prospects.
"The services sector growth will continue to outperform the manufacturing sector," Zhu said.
Industrial output has been falling since 2010 when the year-on-year growth rate peaked at 15.7 percent.
Factories that make textiles, steel, cement, sheet glass and automobiles were powering the growth but now, many have become liabilities and are facing a glut situation.
Miao warned that some emerging sectors such as robot making are already heading toward an overcapacity situation. He said more than 30 industrial parks in the country are charting plans to assemble robots, while demand for such products is still small.
"The country needs quality output and not low-level assembly jobs involving key components purchased from abroad," Miao said.