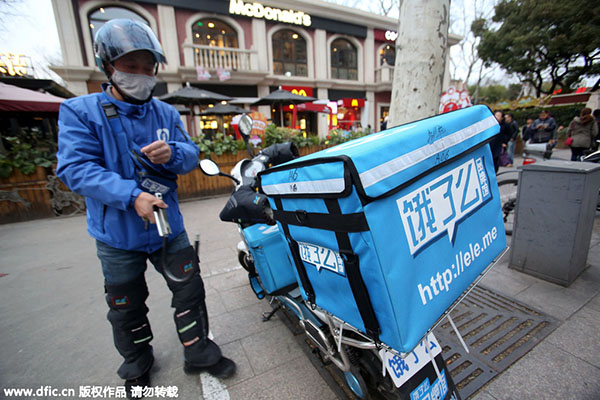 A deliveryman of Chinese food delivery company Ele.me prepares to deliver meals in Shanghai, March 24, 2015. [Photo / IC]
E-commerce giant Alibaba Group Holding Ltd is said to have invested $1.25 billion in ele.me, becoming the biggest shareholder of the food delivery application.
According to a report from caixin.com on Friday, the two parties have already reached an agreement but the deal is expected to be completed after China's Spring Festival in February 2016.
The investment is expected to give Alibaba about a 30 percent stake in ele.me. Ele.me, which announced its latest fundraising of $630 million in August, is expected to see its estimated value boost to $4.5 billion after Alibaba's cash injection.
Both Alibaba and ele.me, when reached by China Daily on Friday, said they could not comment on market speculation.
Analysts said that it is important for ele.me to land investment as the online food delivery market in China requires cash-burning competition to gain market share. The deal is also able to help Alibaba gain a stronger foothold in China's online-to-offline dining market.
Ele.me, which was launched in Shanghai in 2009, is a major player in China's booming online food delivery market. According to a report released by iResearch Consulting Group, the online food delivery market, which had overall transactions of 9.51 billion yuan ($1.47 billion) in 2014, has huge potential in China.