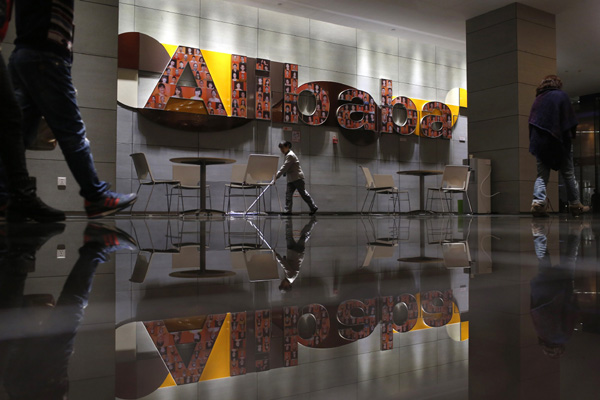 The logo of Alibaba Group is seen inside the company's headquarters in Hangzhou, Zhejiang province early November 11, 2014. [Photo/Agencies]
Alibaba Group Holding Ltd has stepped up its effort on product quality control by becoming the first e-commerce company in China that connects to the database of the country's certification and accreditation authority.
Under a partnership signed between Alibaba and the Information Center of China's Certification and Accreditation Administration on Thursday, the e-commerce giant can access the center's database and verify the China Compulsory Certificate information of products sold on its platforms in real time.
The move is expected to help Alibaba monitor the product quality sold online and help online shoppers get a better sense of the quality of products before they place orders.
The China Compulsory Certificate mark, commonly known as a CCC Mark, is a compulsory safety mark for many products imported, sold or used in the Chinese market.
According to Alibaba, about 11 million out of the 100 million items sold on its business-to-customer site Tmall fall under the supervision of China's Certification and Accreditation Administration.
Through big data technology to compare notes, the company said it will ask all vendors to submit the CCC Mark information of their products and delete those products whose certificates have expired.
"In the future, we will make sure that products with no valid certificates can not be posted online in the first place," said the company in the statement.
Shi Dongwei, vice-president of Alibaba, said product quality is critical for the reputation of e-commerce platforms and Alibaba has zero tolerance of counterfeit products.
"We have more than 1.2 billion items sold online and nearly 10 million vendors doing business on our platforms, so it is impossible to use traditional methods to control counterfeit and sham goods," he said.
The new development in product quality control comes days after the Office of the US Trade Representative said it was "increasingly concerned" about Alibaba's measures to tackle counterfeit products and that more needed to be done.
Alibaba did not reply on the comment, but on Monday it announced it was hiring Matthew Bassiur, vice-president and deputy chief security officer at United States drugmaker Pfizer Inc, to head its global intellectual property enforcement.
Benjamin Bai, a partner at the Shanghai office of law firm Allen & Overy LLP, said that the additional certification could be a "good way" to reduce the proliferation of counterfeit goods, but would not be able to "eliminate them".
"But an e-commerce platform like Alibaba (and Amazon) cannot completely weed out counterfeits because it would cost way too much," Bai added.
"The business reality is that you cannot police every sale on the website. It is important (for Alibaba) to continue to do it, although I doubt that one can completely win against the war on counterfeits," Bai said.
Joe Simone, founder of Hong Kong-based Simone IP Services, an intellectual property consultancy, said that Alibaba has received "good marks from many brand owners for its IP protection work, but mainly in relation to its platforms Alibaba.com and AliExpress".
"Many say that if Alibaba's IP protection systems are perfected, the problem will just migrate to other online trade platforms," Simone said. "But if Alibaba is able to bring its counterfeiting problems under control, it may help in setting new standards throughout the industry," he said.