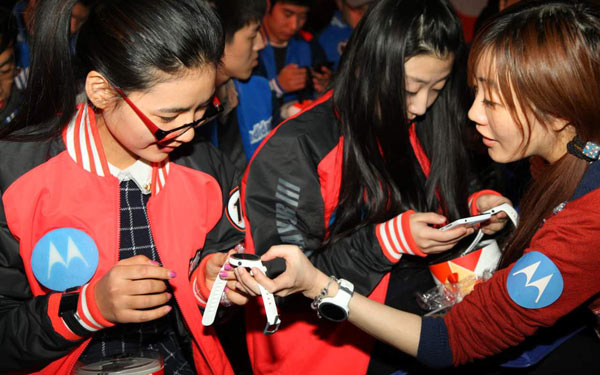 A Motorola employee helps journalists try on the Moto 360 Sport during a press event in Beijing, Jan 20, 2016. [Photo/Provide to chinadaily.com.cn]
Lenovo's subsidiary has made a new push into the health and fitness market that is yet to flourish.
Motorola held a press event in Beijing on Wednesday to demonstrate the Moto 360 Sport, which made its debut at Internationale Funkausstellung Berlin (IFA Berlin), the world's leading trade show for consumer electronics and home appliances in September.
Prior to the event, the device was available for pre-order on its Chinese official site and domestic consumer electronics e-commerce giant JD.com in late December and shipping will start on Thursday.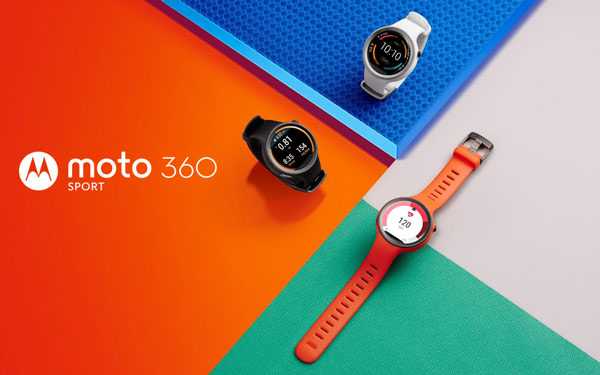 Chen Xudong, senior vice president of the Lenovo Group and Wang Chuandong, vice president and chief marketing officer of Lenovo China Region attended the event.
"We've witnessed a year in which more and more people joined the group to share their daily fitness achievements, health and fitness gears on social media fitness apps," said Chen. "Social fitness has become a new trend and we hope Moto 360 Sport will provide more activity and fashion elements to our users in 2016."
With a resolution of 360 by 326 pixels and covered by Corning Gorilla Glass 3, the 2,388 yuan ($363) watch features a 1.37-inch AnyLight Hybrid Display, which is highlighted by Motorola that helps the digital screen remain visible even in direct sunlight.
The device comes in three colors, black, white and flame orange, while the latter will hit the market later this year.
By gearing more towards fitness and sports, it's the activity-centric sibling to the second-generation Moto 360 that made its debut late last year.
It's also one of the few smartwatches to feature built-in GPS technology.
In September, the localized Moto 360 was introduced by Lenovo in China. It was one of the first smartwatches to be available in the Chinese mainland market that runs on Google Inc's Android Wear operating system.
According to industry consultancy Canalys China, thanks to products that continually hit the market, the penetration of fitness and sports wearable devices has seen growth in the country.
"The market scale has reached to 12.58 billion yuan in 2015, and will be reaching 40 billion by 2018," said Canalys.
Jason Low, a Canalys analyst monitoring the Chinese wearables sector, said the market was extremely diversified and every player is seeking its own way of selling more products.
"An effective channel strategy will easily give a mid-sized vendor 100,000 units in quarterly shipment. Finding the right marketing plan becomes critical as the market remains young," Low said.
Canalys pointed out that accompanying the development of the health monitoring sector, more practical and user-friendly wearable device applications that work with Big Data and cloud computing technologies will be created for its users.