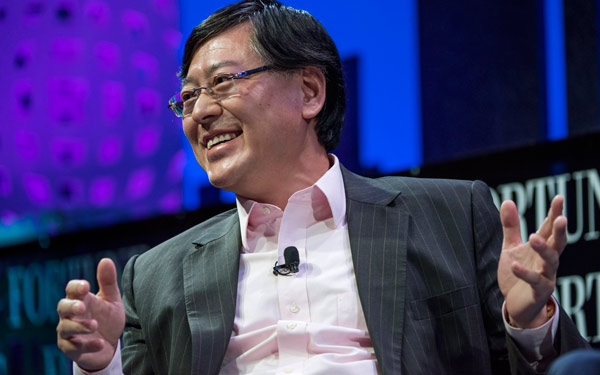 Yang Yuanqing, chairman and chief executive officer of Lenovo Group Ltd, speaks during the 2015 Fortune Global Forum in San Francisco, California, the United States, in November, 2015. [Photo/Agencies]
Past expansion gives IT giant an edge in foreign markets, says its chief
Yang Yuanqing, chairman and chief executive of the world's largest personal computer maker Lenovo Group Ltd, is often referred to as "YY" by his business partners. The sobriquet has stood Yang in good stead as it helped his industry peers to interact with him without being tied up on how to pronounce his name.
The Beijing-based Lenovo is also the fourth-largest smartphone vendor in the world after acquiring Motorola Mobility from Google Inc for $2.9 billion more than a year ago. The company is also the top player in the Chinese server market and is expanding into cloud computing in a big way along with plans to be a software and services provider.
Lenovo launched its new smartphone model, priced at 2,499 yuan ($373), in Beijing in November 2015. [Photo/China Daily]
All of these achievements were spearheaded by Yang, an engineer-turned-CEO who took the mantle at the firm from its legendary founder Liu Chuanzhi and made it one of the most recognized Chinese brands in the world.
The 51-year-old Yang has spent most of his working life in Lenovo. He joined the company in 1989 when it was just a local PC maker vying for market share alongside Dell Inc, IBM Corp and Hewlett-Packard Co.
Lenovo started to build its international presence after he became the corporate chairman in 2004. That year was also significant for the company as it acquired IBM's PC unit making the popular ThinkPads.
Yang, who has spent more than two decades with Lenovo, shared with China Daily his ideas on how the company will face up to the new challenges in the mobile Internet era. Following are edited excerpts of the interview.
Recently, Lenovo showed off some products such as smartwatches and virtual reality goggles. But Lenovo did not have the tradition of disclosing its projects under development. What has prompted the change?
Lenovo has been paying huge attention to technology innovation ever since I became the CEO. Even when I was not the chief executive, I was responsible for research and development. Many people may think Lenovo achieved its success through efficiency and execution.
But constant investment in R&D and product innovation have been another crucial factor in Lenovo's success. Back in the PC era, we added a feature that made tablet access to the Internet just a click away. Our products are unique in design and address particular requirements. In fact, it is innovation that helped Lenovo score over competition.
Lenovo is building a cloud computing unit. Why do you think it is necessary?
Most of the Internet applications are running on the cloud nowadays. Customers can enjoy the conveniences brought by the Internet because of strong data processing capability from the cloud computing platform.
Lenovo made cloud one of the four pillars of its future business because it helps solve the problem of how the company can serve its customers. Lenovo's cloud business now has 400 million monthly active users and 100 million units of devices are connected to the platform every month. By using big data, we can learn how users interact with their devices and then use the findings to design the next-generation products.
In addition, we have developed all-around technologies that ensure information security. In the enterprise business, we have launched cloud-based storage and solutions services targeting customers around the globe. We have 150,000 enterprise users now. In 2014, this business doubled its size and we successfully retained 90 percent of our customers.