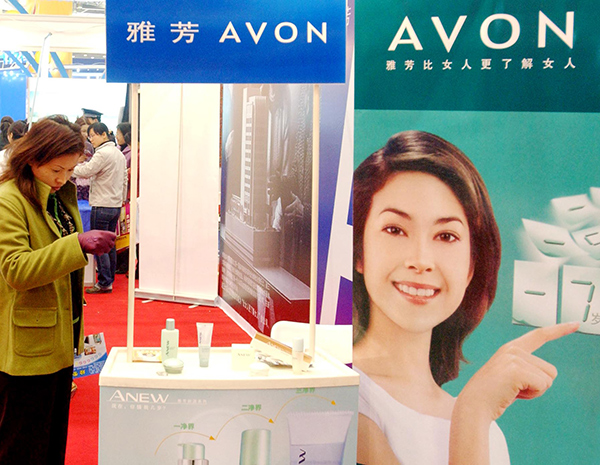 The stand of Avon Products Inc at an expo in Zhengzhou, capital of Henan province. [Sha Lang/For China Daily]
Avon Products Inc, the world's largest direct seller of cosmetics, has appointed a new head of its Chinese operation - its fourth in five years - in the hope of turning around the declining business.
The move comes just days after the company was forced to dismiss rumors that it is exiting the country after a prolonged slump in sales, the result of what experts said was a lack of product innovation.
"China has been an important market for us for more than 25 years and we are proud to serve our loyal customers who know and trust the Avon brand, our strong network of beauty boutiques and our market-leading range of products," the company said in a statement on Friday.
The company recently appointed Asson Chang as new general manager in China who will lead the ongoing growth in the China business.
On Dec 31, reacting to reports suggesting the company was contemplating a retreat from China after several of its top officials resigned and revenue fell drastically, the company said that it was "making good progress (in China)" and that it was "confident we have the right strategy to make the business profitable".
According to Friday's statement, Chang has more than five years of general management experience and for the past 20 years has worked in various roles with blue-chip companies such as The L'Oreal Group, multinational consumer goods company Unilever Plc and sports apparel firm Adidas AG.
It also said that "Asson has also been involved in turning around businesses".
Chang is joining Avon from Central Marketing Group, a Thailand-based retailer, distributor and manufacturer, where Chang was the China country manager - an operation which enjoyed profitable revenue growth through channel and geographic expansion, the statement said.
Avon first came to China in 1989, and was the first company to be given a direct selling license to operate in the country, in 2006.
In 1997, Avon China's revenue exceeded 1 billion yuan ($154 million), according to Jiemian.com, an information portal. However, since then it has been downhill for the company.
Between 2011 and 2014, revenue was 1 billion yuan, 700 million yuan, 600 million yuan and 350 million yuan. In contrast, direct selling giant Amway Corp recorded revenue of 28.7 billion yuan in 2014, according to Jiemian.
According to Kantar Worldpanel, Avon's share of the skincare market has been weakening over the past three years (from 1.4 percent in 2013, to 0.8 percent in 2014 and 0.6 percent in 2015).
Jason Yu, general manager of Kantar Worldpanel China, said the company's total direct sales channel still accounted for 8 percent of total skincare spending in China, and is used by 8 percent of Chinese families, indicating that this is still a viable sales method for Avon, despite fierce competition from major players including Amway and Mary Kay Inc.
The China skincare market has experienced significant change over the past five years, with an acceleration in the use of online channels by cosmetic stores, and rising use of local and particularly South Korean brands.
"Mature brands like Avon will have to come up with the right product offers to attract younger consumers who are not familiar with its brands in this increasingly competitive market and make radical transformation of the ways it operates in China," said Yu.
He said it is difficult to operate a multi-channel strategy, and the company will probably have to focus on the one that has the best chance of winning it business."