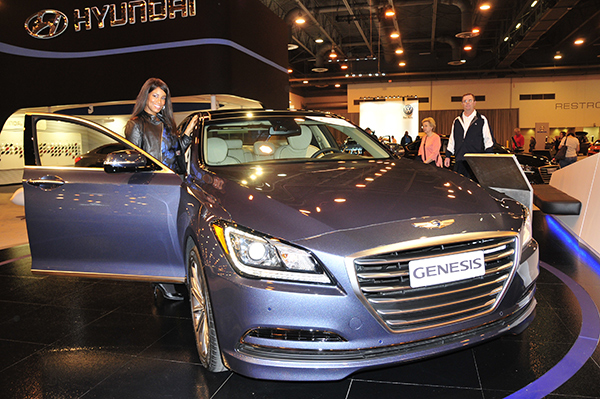 A model stands next to a Hyundai Genesis car on display at an auto expo in Houston, the United States. [Photo/Xinhua]
Hyundai Motor Co is weighing plans to build its new luxury Genesis cars in China to overcome import tariffs that add 25 percent to the sticker price and are seen as inhibiting the company's ability to compete with locally made BMWs and Audis.
South Korea's biggest automaker still needs to reach an agreement with a local partner, said Cho Won-hong, Hyundai's chief marketing officer. BAIC Group currently makes the Sonata and Elantra in a joint venture with Hyundai, though Cho would not say whether the two sides were discussing Genesis production.
"China has a high tariff and that makes our vehicles more expensive than competitors, which makes it difficult to be profitable," Cho said. "There are a lot of issues that need to be solved before we could go in. But we will definitely go in."
Hyundai is seeking ways to turn around the China business after sales of its predominantly mid-market lineup fell last year for the first time since 2007 on a slowing economy. One option is to tap into the luxury segment as cuts in sales taxes and looming limits on vehicle registration prompt buyers to splurge on the most expensive car they can afford.
"Hyundai has no choice," said Heo Pil-seok, chief executive officer of Midas International Asset Management in Seoul. "It's difficult to expect quantitative growth in the auto market, so companies have to promote luxury models and brands to bring up the profits."
China is the biggest market for Hyundai, accounting for 21 percent of sales last year. The US accounted for 15 percent of the company's 4.96 million cars sold in 2015.
Hyundai's deliveries in China fell 5.1 percent for the year to 1.06 million units, weighed down by an economy likely growing at its slowest pace since 1990.
Most of the world's top luxury brands makers, including BMW AG and Volkswagen AG, manufacture in China to avoid the taxes that put imported vehicles at a disadvantage.