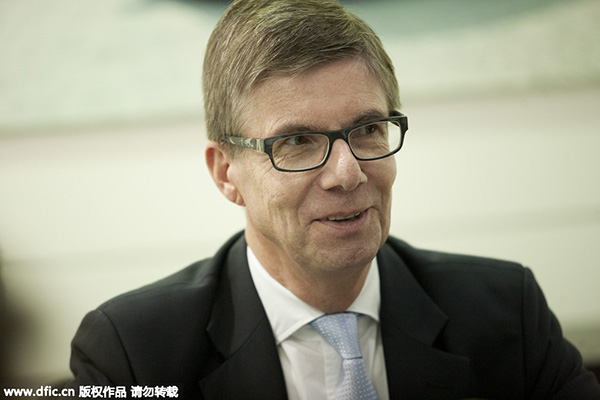 Olaf Kastner, president and CEO of BMW Group Region China. [Photo/IC]
Olaf Kastner, president and CEO of BMW Group Region China, said BMW's "smart factory" detects possible issues in the production line and makes adjustments while it's running, so as to lower the number of defective products and reduce the wastes. The Tiexi plant was designed as a green plant from its inception to fully utilize resources and minimize waste and emissions.
"We applied innovations in technologies and techniques to tackle the challenges and drive our sustainable development," Kastner said.
Q&A with Olaf Kastner, president and CEO of BMW Group Region China
There has been an increase in employees' efficiency in the plant. What's Industry 4.0 to BMW?
One of the core concepts of Industry 4.0 is to make the equipment more intelligent, and help and assist people's work better.
In BMW Brilliance' Dadong plant in Liaoning province, robots are going to work alongside people in Phase II. A human being could be working next to a robot. They will co-work together.
We make robot and people cooperate in a more efficient way through smart manufacturing. People and robot working together is one of the features of Industry 4.0.
How does BMW deploy the Industry 4.0 concept?
Germany and China have similar position in the regional economic development. In the future, Germany and China want to continue their role as the engine of European and Asian development. For that both countries must implement more intelligent manufacturing.
BMW is promoting and also applying the Industry 4.0 in the manufacturing process, and we use more intelligent robots and information technologies.
For example, we use many sensors in product lines. These sensors detect flaws in the products. In case some flaw is found, the entire line stops. We use Google glasses to record the issues in the producing process, and work on it as soon as possible.
In this way, we spot and work on possible issues immediately, instead of going over the process again after the product is finished. We reduce the waste in the manufacturing process in our smart factory, and reduce the waste of resources.
Industry 4.0 encouraging the application of intelligent equipment and information technologies is helping the sustainable development.
What does the sustainable development mean to BMW?
Both China and Germany are experiencing aging population, so both of us hope that people will work longer. BMW has made the working environment more comfortable to help extend people's career.
For example, to make the robot arms adjustable in the assembling line and the ergonomic design make the working conditions better. In the new engine plant, in case that people run in front of an intelligent robot, it stops automatically to protect the people. These are a part of Industry 4.0.
Internally we call people associate, instead of employee. We offer a creative working environment, as we want our associates to be creative.
We also invest a lot in education to help them in their carrier development and embrace a better future. We make these efforts for the younger generation, and, to some extent, support their China dreams.
Why does BMW organize a forum on sustainability and social responsibility?
We communicate with experts and scholars in automotive industry, government officials, and the public, so as to let people understand about social responsibility.
We discuss how to promote the sustainable development of the society and the company through innovations. We hope to promote the entire society carry on the responsibility through the gathering of the power from all the stakeholders.
What's your vision on the Chinese market in 2016?
The Chinese market is settling into new normal. The premium segment grew by about 5 percent, slower than the 10 percent rise in 2014.
At this time, the most important thing is to be highly flexible. We will not produce more cars only for market volume.
In China, we don't want to lose market share. But we won't buy market share. That is to say, as a premium brand, we should maintain a stable price, rather than selling cars at a great discount.
A stable price is the character of a premium car. We should have future-oriented vision and maintain the premium brand image. This is also what the customers expect.
When BMW celebrates its centennial next year, people will see the new localized model. We are working on the preparations, and our pre-production cars are already in test.
In the coming two to three year, our localized lineup will extend from current three to six models. We believe we have very good products and we will sustain a stable success.