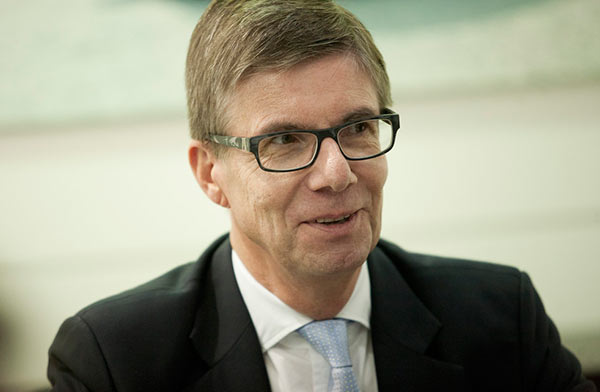 BMW Brilliance President and CEO Olaf Kastner. [File photo]
BMW Brilliance President and CEO Olaf Kastner has been appointed new president and CEO of BMW Group Region China, replacing 57-year-old Karsten Engel in a sudden move announced by the car giant on Monday.
The appointment takes effect on December 1, 2015. BMW Group said Karsten Engel, the current president and CEO of BMW Group Region China, will go back to Germany, but did not mention his new position.
Engel was appointed to the current position in 2013. Insiders attribute the unexpected move to BMW's declining performance in China.
Public data show that BMW sold 342,683 vehicles in the first nine months of 2015 in China, its biggest market in the world, up 2.0 percent year-on-year. In contrast, BMW Group saw a sales growth of 7.5 percent in the same period. It's rarely seen that sales growth in the China Region is lower than worldwide growth.
Another fact is that sales of BMW sedans experienced an unprecedented fall of 5.5 percent year-on-year in May, which has not been seen in China in more than 10 years.
BMW was also defeated by its old adversary Mercedes-Benz. In the past, Mercedes-Benz was left behind by BMW for many years. But in the first nine months of 2015, Mercedes-Benz sold nearly 260,000 vehicles in China, increasing 33 percent year-on-year, and securing growth for 31 consecutive months.
In the past two years, the development of China's luxury car market has slowed down from fast pace. People inside BMW China believe that Engel took the reign at the peak.
In his tenure, his most eye-catching achievement was to introduce e-mobility strategy and BMW i brand to China, a brand under which the company manufactures all electric vehicles. He also pushed forward localization and a soft landing from high-speed growth to moderate growth.
Harald Kruger, chairman of the board of management of BMW, said in a statement: "With his extensive Asia experience, Karsten Engel successfully developed the Chinese market for BMW Group in recent years. As a result, the BMW Group is well-positioned for the future in China."
Engel's successor Olaf Kastner is considered as an old China hand by BMW, especially as he can speak Chinese. Having worked in China as BMW Brilliance president and CEO for more than six years, Kastner is familiar with market.