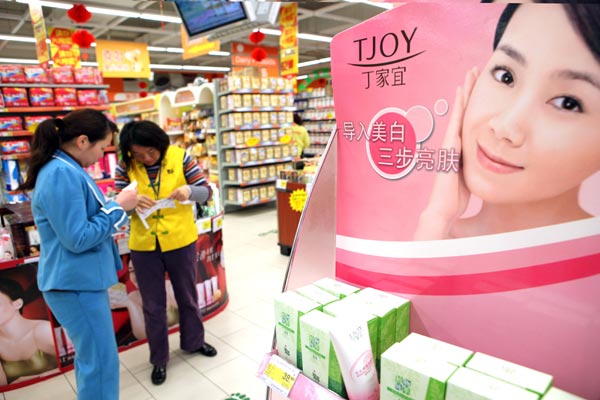 TJoy products displayed at a supermarket in Shanghai. [Photo provided to China Daily]
Four and a half years after selling it to French beauty company Coty Inc, Zhuang Wenyang, the man who founded Chinese skincare and cosmetic brand Tjoy in 1995, has bought it back.
Tjoy had been a local leader in face cleansing and men's skincare products, before falling growth led to its sale for 2.4 billion yuan ($376 million) in December 2010 to the Paris-based Coty-the company behind global brands including Calvin Klein, Chloé and Davidoff.
But within two years, the Chinese brand's revenue was down 50 percent year-on-year, prompting a major overhaul of its marketing and senior management teams.
In the third quarter of 2013 it lost $253 million, and its new owner halted production altogether, while continuing product distribution.
Now Zhuang, the chairman of Siki Group, the Suzhou-based cosmetic manufacturer, has re-bought the brand for an undisclosed amount, and says he plans to relaunch it this month with a range of new products aimed mainly at the hypermarket sector including in retailers such as Wal-Mart Stores Inc and Carrefour SA, as well as online.
According to Jason Yu, general manager of retail consultancy Kantar Worldpanel, Tjoy still has decent brand awareness though that is probably limited to consumers born in the 1970s and 1980s.
In a Kantar survey of Chinese families in 2014, it was still being bought by 4.4 percent of relevant respondents, down from 9.4 percent in 2012.
But Yu said today's market has changed radically in the years since it was sold.
"Competition in the skincare market is much fiercer and stronger local brands are emerging."
It will be "tough to rebuild the brand to its past glory", said Yu, and the effort will require some fundamental repositioning to create a new niche, up against other local players such as KanS, Pechoin, and South Korean brands that are growing in popularity.
He said previously that multinational companies typically acquired such local Chinese brands to complement their existing product portfolios, and to leverage local distribution networks to enter lower-tier cities.
Potential targets were only of value if they could provide long-term, sustainable competitive advantage to the buyer.
"Historically, many local brands are 'me-too' brands that enjoy only transient advantages, hence they may not fit in with the strategies of the acquiring companies, especially if the management team departs post-acquisition," said Yu.
The current outlook, however, for Chinese skincare and cosmetic brands is positive, said Yu, according to recent Kantar data which showed domestic brands have been gaining share over multinational brands in China.