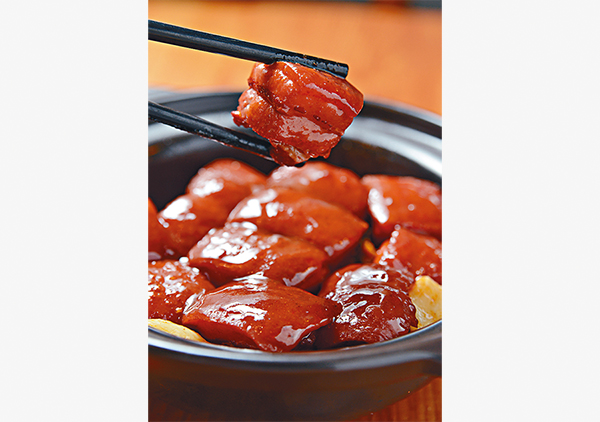 Brown-braised pork, a signature dish in Hunan cuisine. [Photo provided to China Daily]
African countries are set to get a taste of authentic Hunan cuisine after a Chinese company began shipments of frozen, ready-to-eat foods to the continent.
More than 80,000 such dishes, worth about $101,000, is expected to reach Kenya later this month, making it the biggest-ever export of Hunan cuisine.
Tang Bucong, president of Xin Congchu Food Co, the company that is making the shipments, said eight dishes, including brown-braised pork and braised pork with preserved vegetables, are among the products exported. The decision on the products were made based on "several investigation tours and research and adjustment according to local people's taste", Tang said.
Hunan cuisine is one of the eight most popular cooking styles in China, known for its spiciness, fresh aroma and deep color. Chefs with the company cooked, packed and froze the meals, which can be eaten immediately after being heated in a microwave oven.
Tang said the Hunan Entry-Exit Inspection and Quarantine Bureau guided the company in facilities upgrading and personnel training to facilitate the "first export of Hunan cuisine". "(It) also helped the company to leapfrog the necessary procedures to be a food exporter."
"Demand for Chinese cuisine is growing steadily in overseas markets. We plan to build our own brand, sales channels and network overseas. Instead of being a contractor like many traditional companies, we will sell our products to overseas customers directly," Tang said.
Established in 2002, Xin Congchu Food has two production bases in Hunan province and employs about 300 workers.
The exports come at a time when Chinese population in Africa has reached a historic high and more are estimated to come in due to the ongoing industry transfer. Kenya, along with Ethiopia and Tanzania, have been chosen by the Chinese government as pilot countries for the industry transfer. It is estimated that more than 50,000 Chinese people work in Kenya now, in addition to thousands of Chinese tourists.
There are already several supermarkets in Nairobi that cater to the culinary requirements of the Chinese community.
Nakumatt Holdings Ltd, one of the renowned retail chains in Kenya that has regional presence across most of East Africa, has already introduced a special Chinese section several months ago.
Thiagarajan Ramamurthy, regional director of strategy and operations at Nakumatt Holdings, said: "The Chinese community in the region has been growing and so the demand for Chinese products."
Most of the stores target the medium-and high-end income group. This translates to 1.5 million households in East Africa with about 1 million in Kenya alone. The Chinese community living in Kenya falls in this target group. Most of the Chinese products the company introduces are well-packed snacks, beverages and spices that have longer shelf lives.