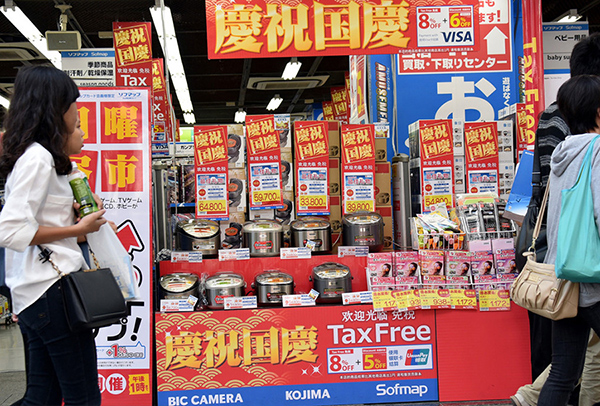 Posters advertising Chinese language used by Japanese shop owners in an attempt to attract buyers during China's Golden Week, 2015. Around 400,000 tourists from the Chinese mainland visited Japan and spent nearly 100 billion yen, or around $830 million in shopping during the National Day holiday week. [Photo/IC]
Japanese companies are still bearish when it comes to expanding or setting up new businesses in China, a new survey said.
Only 38.1 percent of the Japanese companies were willing to expand their business in China over the next two years, the lowest reading in the past 17 years, said the survey published by the Japan External Trade Organization.
Japanese businesses cited falling sales, rising purchasing and labor costs, waning development potential, less acceptance to high value-added products and strict management as reasons for the bearishness.
About 51.3 percent of the respondents preferred to maintain the present status, while 5.1 percent wanted to cut investments, said Yoshihisa Tabata, director-general of the Beijing office of the JETRO.
The rest of the respondents preferred to either curtail their operations or withdraw completely from China and move their business to other countries, he said.
However, Tabata said: "Despite the economic slowdown in the country, not all Japanese companies are pessimistic about China's economic future."
The general mechanical equipment sector, for example, despite the less promising performance in North China, saw sales in southern and eastern part of China surge, he said.
With increasing purchasing capacity, it is believed that consumption on high-quality products by China's expanding middle class will last till 2020, said Tabata.
According to the governmental organization that promotes trade and investment with other countries, Japanese companies in Hubei province, Beijing and Shanghai are more willing to expand their operation in the future, with 51.3 percent, 42.9 percent and 38.5 percent of respondents willing to extend business in 2016. Japanese companies in Guangdong, Shandong and Liaoning provinces are less willing to branch out.
Japanese companies in the manufacturing industry are less willing to expand business in the upcoming two years, with only 34.9 percent of them willing to expand the business, including the food industry, transport machinery equipment industry, chemical and pharmaceuticals industry, general mechanical equipment, electrical machinery equipment and metals industry.
The non-manufacturing industry is more optimistic, with 43.9 percent willing to expand operations in China, including those involved in the wholesale and retail, communication software and transportation industries.