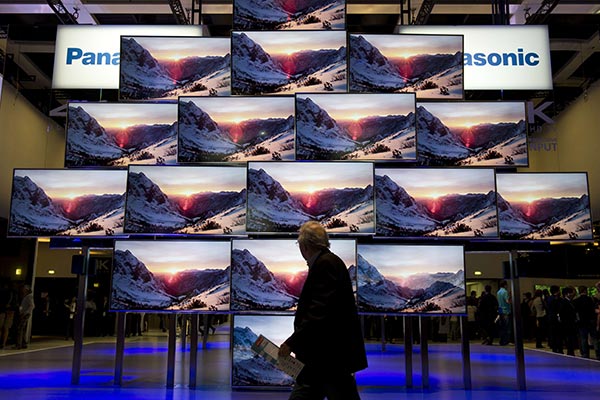 A visitor walks past a display of Panasonic Smart Viera 4K ultra HD televisions at the Panasonic stand at the 53rd edition of the Internationale Funkausstellung electronics trade fair in Berlin on Sept 4, 2013. In China, Panasonic is shifting its focus to high-end intelligent appliances and devices.[Photo/Agencies]
Iconic firms seek revival by foraying into a wide range of new business segments There was a time when Chinese consumers were enamored of Japanese home appliance brands such as Sony, Panasonic, Toshiba, Sharp, Sanyo and Hitachi. Such brands dominated segments like televisions, music systems, washing machines, refrigerators, you name it. Not any more.
The rise of homegrown Chinese home appliance makers such as Haier Group, TCL Corp and Hisense Group has hurt Japanese electronics giants badly, pushing the latter into areas like high-end intelligent home appliances, business-to-business or B2B activities, construction, nuclear power, housing, automobiles, startup incubation and Internet of vehicles.
For instance, in January, Panasonic Corp closed its last television production factory in China, which was located in Jinan, capital city of Shandong province. Panasonic said it will instead outsource its TV production to Chinese contract manufacturers.
In August, it shut a factory in Beijing that produces lithium-ion batteries for laptops and smartphones, laying off about 1,300 employees.
This year, Panasonic shifted its focus to businesses related to automobiles, housing and B2B activities. To gain a quick entry and market share through acquisition of firms engaged in those areas, it set up a 1 trillion yen ($8.19 billion) fund.
"We have set a goal of 10 trillion yen in profit in 2018, with the B2B business accounting for 80 percent of the total. Further development of the B2B field is key to moving Panasonic forward. We will also be committed to B2B in China," said Hidetoshi Osawa, chairman of Panasonic China.
Besides audio-visual information and communication technology, Panasonic will provide B2B solutions for housing, environmental projects, automobiles and electrical systems, he said.
Last year, Panasonic and Tesla Motors Inc, the United States-based maker of electric cars, teamed up to build lithium-ion battery factory in the US. Panasonic is targeting to double sales of its car battery-related business to 37.5 billion yuan ($6.47 billion) in 2018 from the 2014 level.
In 2011 and 2012, the company reported losses of 772.2 billion yen and 754.3 billion yen, respectively. The loss from home appliances was 8.5 billion yen in the first quarter of 2015.
Not unexpectedly, it laid off nearly 10,000 employees in the past two years. In the first quarter of this year, its net profit was 59.5 billion yen, up just 5.7 percent year-on-year, which it attributed mainly to its car-related B2B business.
As for its core competence in home appliances, Panasonic intends to focus on the high-end segment of intelligent devices and machines in China, to cater to the growing high-income middle class families, said Masanao Yamauchi, general manager of Panasonic China Appliances Co.
Panasonic's vision is to make products that would enable consumers to control, say, electric cookers using their mobile phones.