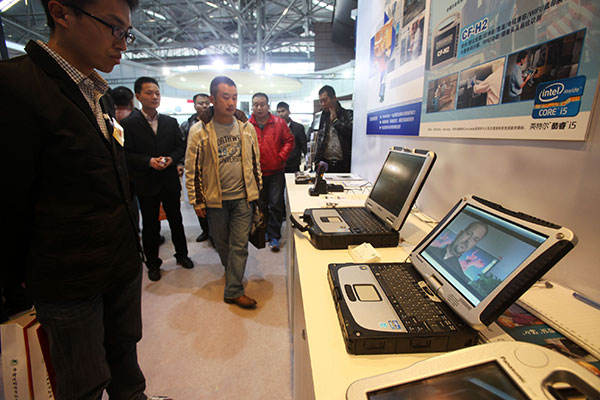 Reinforced Panasonic Corp laptops on display at an expo in Tianjin. The Japanese electronics company is set to close its lithium battery factory in Beijing. [Photo provided to China Daily]
Japanese firm to shut lithium battery factory as demand dwindles
Panasonic Corp, the leading Japanese electronics company, is shutting down its lithium battery factory in Beijing amid weakening global demand for smartphones and tablets.
An official at the administrative committee of the Beijing Economic and Technological Development Area in the southeastern part of the city, where Panasonic's plant is based, said on Thursday it has been informed that the Japanese company will close the factory by the end of this month.
"We received the notification a month ago. The plan involves axing 1,300 workers, and so we were informed in advance," said the official who refused to be named.
An employee at the area's labor bureau said: "Since June, the plant's workers have been calling to ask for advice on economic compensation, saying they would soon be laid off".
The Beijing factory was built in 2000 by Panasonic's unit Sanyo Electronics Ltd. It has been manufacturing lithium cells for smartphone and PC makers with peak monthly output of 4 million units, according to a report by Japanese business newspaper Nikkei. But its sales dropped to $150 million in 2014.
Panasonic was not immediately available for comment and Sanyo Electronics declined to comment.
Panasonic also operates two other lithium battery factories in Suzhou and Wuxi, Jiangsu province.
Gene Cao, a senior analyst at market research firm Forrester Research Inc, said the closure is part of Panasonic's broad efforts to restructure its capacity to produce lithium batteries.
"The global slowdown in smartphones and tablets, coupled with stiff competition from South Korean rivals, has eaten into the profits of Panasonic. It is shifting focus toward the auto industry," Cao said.
Research firm International Data Corporation said on Wednesday that smartphone shipments will see a lower growth of 10.4 percent this year, compared with 27.5 percent in 2014. The tablet industry will see an even more pronounced slowdown, with shipments falling 10 percent for Android-based gadgets and 14.9 percent for iPads this year.
"Smart automobiles, electric cars in particular, are still in infancy. The sector will, however, see explosive growth once consumer enthusiasm grows and this, in turn, will generate huge demand for lithium batteries," he said.
"Panasonic is preparing for the imminent boom."
Earlier, the Japanese company said it would expand its car battery-related business to 37.5 billion yuan ($5.86 billion) in the 2018 fiscal year, almost twice the figure in 2014. It also inked a partnership with electric carmaker Tesla Motors Inc last year to build car battery factories in the United States.
Panasonic is the world's second-largest manufacturer of lithium cells. According to data compiled by Nikkei, it accounted for 20.9 percent of the global market in 2014, second only to Samsung SDI Co Ltd, a unit owned by Samsung Electronics Co Ltd, which had 23.5 percent.
Ma Si contributed to this story.